According to the noted geopolitical strategist and founder of the influential Eurasia Group, Ian Bremmer, "Belgium has a problem: too many churches,
not enough attendees, [and therefore] finding interesting ways to repurpose the spaces":

This is a real and true photo of a church in Belgium being re-purposed for rock climbing.
And if you think this Belgian church is just some funky outlier, one Top 10 climbing wall is located in a 19th-century, Manchester, UK cathedral (no reconsecrated as the Manchester Climbing Centre: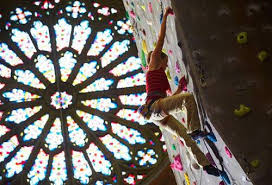 I often speak about how extreme sports, rave festivals, and work-out culture are the modern person's attempt to experience paths of self-transcendence in their mundane, "cubicleized" 9-to-5 existences, what their ancestors traveled on pilgrimage to attain, or attended multi-day religious festivals and solemnities around the presentation of relics.

But this is definitely taking that to a whole other level. I could not have dreamed this credibly – – but it is exactly what I am pointing to, in such a densely symbolic form.
So, if "God is dead", it might be because he didn't clip his climbing harness correctly (or he didn't really check that purchase of Molly for purity — there's a lot of cheap fentanyl out there, folks).