Tomorrow evening, I am scheduled to give a talk and offer guidance to a Zen community in Turku, the former capital of Finland. I am very happy and honored to be invited, and hope that there is some assistance that they can obtain from the encounter.
As is the custom, whenever I first visit a city where Gustav Mahler conducted or lived in, I feel compelled to visit some spot that he has touched. There are several locations in Helsinki which he attended, but I have chosen another place to make this exceedingly ephemeral contact with his physical presence: a castle-like building out in the Finnish wilderness.
Along the way to Turku, our hosts have offered to take a slight detour so that I may visit the house in Hvitträsk where this portrait of Mahler was painted, during his visit to Helsinki in Autumn 1907. This, by the artist Akseli Gallen-Kallela, is the only known portrait of Mahler painted during his lifetime, as Mahler warmed himself beside a fire. I love this painting as — unlike all of the black-and-white photos which abound — it captures the warmth of him, and feels much more deeply intimate than what you get from a photo: it feels like you can almost feel his breath!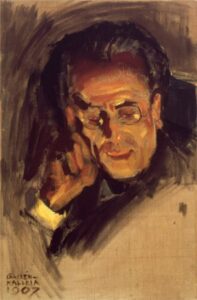 Just after this painting was completed, Mahler wrote about it to his wife, Alma: 'When it got dusk, we sat in the twilight in front of the open fire, where huge logs blazed and glowed as though in a smithy. Gallen, who had kept his eyes fixed on me throughout the trip in the most singular way (as if he'd spottted a hare), suddenly set up an easel and began on my portrait. Lit up only by fire, quite a la Rembrandt…. An hour passed: I had to go and was just bidding them all farewell when my host brought the easel along and there, to the wonder of all, was my portrait – completely finished. Very fine as a painting and also a strong likeness. You would be astonished!'.
https://mahlerfoundation.org/mahler/locations/finland/helsinki/city-of-helsinki/
[update]
Got to be in that same spot of Mahler's physical Presence then: