The best-known of Rainer Maria Rilke's triptych of three reflections on the Buddha, written in Paris during the years 1905-06, is "Buddha in Glory". This poem's timeless words first pierced my soul while wandering — blind and plunged in mental darkness, complicated by deep brainwashing in soul-crushing classes and debates in post-structuralist theory — during those intellect-stuffing years at Yale. At the time, I certainly appreciated Rilke's vision as sublime poetry; I was not yet prepared to be open to its unwritten meanings until after I had engaged in meditation practice. This speaks to Rilke's own innate and utterly Delphic spirituality: he was, quite naturally, a sort of suffering Buddha, his tender lyre strummed by the ethereal notes of pure consciousness. He was already "there". And still is: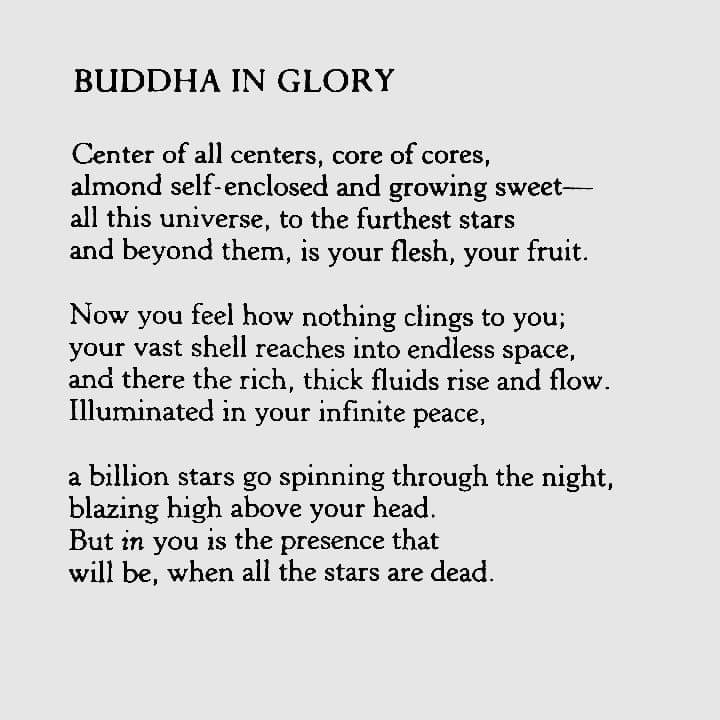 "But in you is the presence that will be, when all the stars are dead." Wow. I am breathless every time I read that.
According to the poetry scholar Luke Fischer, writing in The Cordite Poetry Review, "Rilke's interest in the Buddha was stirred by an Indonesian statue in Auguste Rodin's garden in Meudon, which the French sculptor had procured (along with other Buddha statues) from the 1900 World Expo in Paris. From September 1905 until the spring of 1906, Rilke lived in a cottage in Rodin's garden and worked as his private secretary."
Hinting at an intimacy which gave rise to this poem, Rilke wrote at the time to his sister Clara:
Soon after dinner I retire, at half past eight am finally back in my cottage. Then before me is the vast blossoming starry night, and below, in front of the window, the gravel path climbs a small hill, upon which, in tremendous silence, a Buddha-portrait rests, in quiet reticence imparting the unsayable containment of his gestures under all the skies of day and night. C'est le centre du monde ["It's the center of the world."], I said to Rodin. And then he looks at me so endearingly, in utter friendship. That is very fine and a great deal.

–Rilke to Clara Rilke-Westhoff, Meudon, 20.09.1905. Rainer Maria Rilke, Auguste Rodin, Der Briefwechsel und andere Dokumente zu Rilkes Begegnung mit Rodin, ed. Rätus Luck (Frankfurt am Main: Insel Verlag, 2001), pp. 111-112.
(For what it's worth — and this has only tangential historical relationship to the inspiration for the deep soul-force that is the poem itself — is the very image which Rilke encountered in Rodin's home.)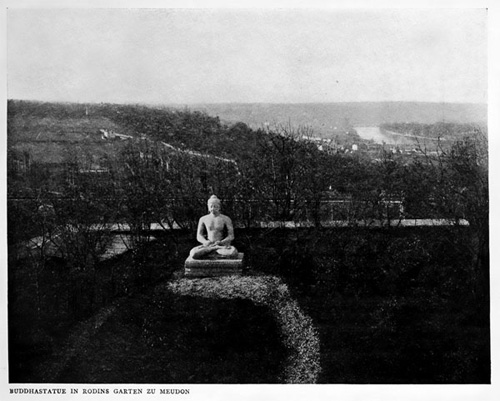 Fischer continues:
"Rilke wrote three poems on the Buddha that appear at different places within the two parts of his New Poems (Neue Gedichte), which were published in 1907 and 1908 respectively and include some of his most cherished poems – among them 'The Panther' and 'Archaic Torso of Apollo'. The first two poems in these translations are contained in the first part (Neue Gedichte). The third poem on the Buddha assumes a special importance in that it concludes the second part (Der Neuen Gedichte anderer Teil) and thus the collection." (emphasis mine)
http://cordite.org.au/translations/rilke-and-the-buddha-three-translations/
The original German, since we must encounter Rilke's ephemeral soul-movement in its original music:
BUDDHA IN DER GLORIE
Mitte aller Mitten, Kern der Kerne,
Mandel, die sich einschließt und versüßt, –
dieses Alles bis an alle Sterne
ist dein Fruchtfleisch: Sei gegrüßt.
Sieh, du fühlst, wie nichts mehr an dir hängt;
Im Unendlichen ist deine Schale,
und dort steht der starke Saft und drängt.
Und von außen hilft ihm ein Gestrahle,
denn ganz oben werden deine Sonnen
voll und glühend umgedreht.
Doch in dir ist schon begonnen,
was die Sonnen übersteht.
Thanks to Joshua Michael for the inspiration on today's blog-meditation.