This post concerns one of three encounters I have had with His Holiness the Dalai Lama. I have never before shared some of these pictures publicly, and the full story behind the meeting that occasioned them. The encounters did not do much towards advancing my understanding of Dharma, but the presence of his compassionate soul and ready wit and laughter, were as impressive as any Dharma talk (and some retreats).
I was invited to have a conversation with His Holiness during his visit to Yokohama, Japan, during his visit there in October 2012. It was agreed that I would be able to discuss with him anything except sensitive matters concerning China and Tibet, about which he chooses carefully the time and place of his official utterances. Outside of that, anything would be possible. I was very honoured, of course — but also extremely happy and excited to speak with him directly about matters relating to practice and the growth of the Dharma in the West, as well as the challenges of teaching monastic-oriented training methods in the West, and his views on science and meditation. I was permitted to have 10 questions' worth of his time in his very, very busy schedule. I worked very hard to present ten questions worth of essential dialogue touching on things that friends and students of mine had also contributed to.
Alas, the ten questions were changed by the people who had arranged our meeting. The organisers told me, just before the meeting, that several of the questions "needed to be given to members of the Korean press corps" who were accompanying us on the visit. I understood a little bit why: Due to Korea's traditional tight embrace in the Chinese sphere of influence, His Holiness has never been granted a visa by any Korean government to make a visit there. As such, Korea is the only traditionally-Buddhist country in the world which he has never visited. Any Korean government which would approve a visa for him would be committing ritual suicide, since Beijing would apply extreme economic and diplomatic force against them, since such a visa — and the ceremony and honours accompanying such a visit — would constitute stature for His Holiness in public perception, if not de facto recognition of his place in Tibetan civilisation: spiritual leader, yes, but also head-of-state. This is particularly more a sensitive matter for Koreans since China has had the most leverage with the North Korean regime.
Although I was disappointed not to have the free-flowing dialogue we had expected, I was happy to offer up the chance for Koreans to ask things more towards their particular interests than those of a Zen monk — provided that the questions were, in fact, worthwhile, meaningful, substantive.
When I finally saw the questions that the Korean reporters had prepared, I was completely crestfallen. They were completely meaningless, anodyne, superficial things. "What is your normal day like?" "How do you maintain your health with such a busy schedule?" They were more the questions for a celebrity than to a practitioner of any stature and experience, let alone that of the Dalai Lama.
On the day before we departed for Japan, I was told that, in addition to the half of the questions that had been "bartered" away to the Korean media, several more questions were being given away. I think I was left with a paltry three or four questions. As such, though the conversation was filmed, I have often felt too embarrassed about the needless waste of this shining opportunity. In the end, the impactful dialogue I had hoped to have — and one which could benefit practitioners of meditation, some of whom had offered questions for me to ask — was balkanised into a little snippet of depth, surrounded by a bland chit-chat.
This is the backstory for why I have never shared the mini-documentary that was made of the visit. It was just cheapened down to the lowest possible common denominator, completely lacking in bone. But the videos are down at the bottom of this post. Any "disappointment" I felt is just ego, and nothing else. But the words he offers in this video are Dharma gold certainly worth sharing, especially when His Holiness gives up on the questions and riffs on subjects nearer and dearer to his own heart.
I any event, it was a lifetime honor. I am still so very, very grateful for the chance to have been in his presence — not as some "god" or super-holy person (which he would be the first to disabuse anyone thinking about him), but in the presence of a practitioner who kept his clear way despite the intense pressures and the vagaries of history and the bitter, scalding disappointment of the many political betrayals and compromises he has been forced to make simply to prevent the genocide of his own people, and the erasure of their unique civilisation from the face of the earth, its transformation into a Disneyland-like apparition almost complete within the territorial borders of Tibet, and beyond.
In this photo, I had the first greeting before the public conversation together. We got a call that he was requesting me to come to his hotel room for a first-meet. I ran across a vast hotel courtyard, through a crowded lobby — robes fluttering crazily all over the place. I was told that his time was very limited, and he needed to rest. But he wanted to meet me before our public conversation — if I and an elderly Korean monk did not arrive in the next five minutes, he would already be resting. So, off I flew.
It was a real, long run through a massive hotel complex. There were several security perimeters we had to get through, as well: There is always the fear that some raving Chinese nationalist will get close enough to him and put a dagger in him, for daring to declare that his ancient homeland did not belong in the gaping and unfillable maw of the Chinese Communists. (And I say this while consciously separating out the CCCP from the Chinese people from any blanket condemnation, though there are still many who believe the indoctrination that Tibet is "theirs".)
The elderly Korean monk was huffing along beside, and eventually behind me. I tried to stop and rest with him, but they urged me on, hoping that at least one of our crew of visitors from Korean Buddhism would arrive in time to give at least the courtesy of a "hello." His Holiness is painfully aware of the standout nature of his not being able to visit just one country in Asia: Korea. And he has become aware of the many people in Korea who have come to love and revere him. So, he was making a special effort, on a visit to Japan already filled to the brim with appointments among the Japanese who freely thumb their nose at the CCCP's diplomatic hackles over anyone who receives him as a visitor, much less a head of state. He was making a special effort, and so I needed to make whatever sprint was required over this vast hotel complex, no matter how many eminent worthies were left clutching their pacemakers by a lobby wall!
The meet-and-greet was super-short. There were bodyguards filling the hotel suite. Various well-wishers who he'd come to value for their support for his cause — both Japanese and Western — were buzzing around him like honey-drunk bees. In the mass of bodies, His Holiness could not be seen at first — especially due to the Great Wall of Bodyguards. But then I heard his laugh. That laugh, bubbling up from the hive that was formed tightly around him. That laugh is unmistakeable — I had heard it on videos and in interviews.
Soon, an arm from nowhere tugged at my sleeve, and I shot a look down to see that he had reached his arm through a press of bodies. He was tugging at the billowing sleeve of my formal robe, now sweaty from the Olympic sprint.
"Oh, big monk! Ho ho ho!!" He seemed smaller than I'd expected. "Where from? Where from?" It was such a surprise — what do you say to great such a one as this? I was bending into a bow as he was reaching forward with both hands toward my shoulders — the bow was broken, mid-movement. He was having none of it. What then do I gesture to? Shake his hand? To a senior monk, and then someone of his planet-wide super-eminence? That's against all of the neuro-plastically instantiated hyper-training. It's all happening in a flash, with so many other bees swarming mightily for him, the entire grouping folding inward toward his energy, which now had me latched onto. Bow to what — his wrists?
"Where from?"
"Oh, America, your Holiness. Originally America. I come with group from Korea."
"Oh, America. Good place. I was just there recently."
"yes, your Holiness — I saw online –"
"Your voice very BIG. Ho ho ho ho!! Good for sending Dharma! Ho ho ho ho!" That laugh.
The bees were swarmed, and he was getting pulled one way. A bodyguard slid in — it was enough, His Holiness needed to be moved on. And what else would one say, anyway?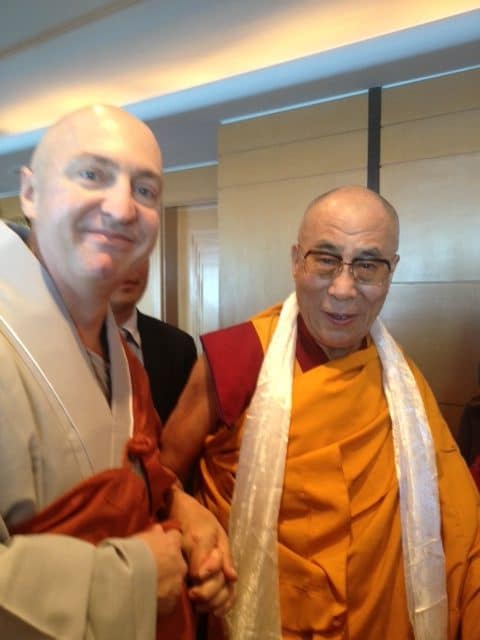 That was it.
When we met for our one-on-one, it was a much different situation. And I didn't get to ask the questions I'd intended, and I couldn't shake that disappointment. I think it made me a little snappy with some of the reporters who'd tagged along from Korea. The shallowness of what was being asked of his so-precious time and energy, it gave me nausea. I guess there was some strong attachment to be able to have this chance to ask some truly substantive things of one of the most consequential people on the planet and, well, there was a conversation about his daily health regimen.
Luckily, when the one-dimensional questions ran out — and I think even he noticed the thin depth there — he seemed already to have some prepared things that he wished to convey to Korean society, and we became the conduits for that. Maybe just as well. It was a great teaching to see how much of my own ego got inflamed in the whole process of it. Maybe that was the message that had to be brought back into my practice, more than anything novel he could have said or answered.
Anyway, for whatever its worth, that was the moment and that was also the reason why the dialogue felt like such a "missed chance."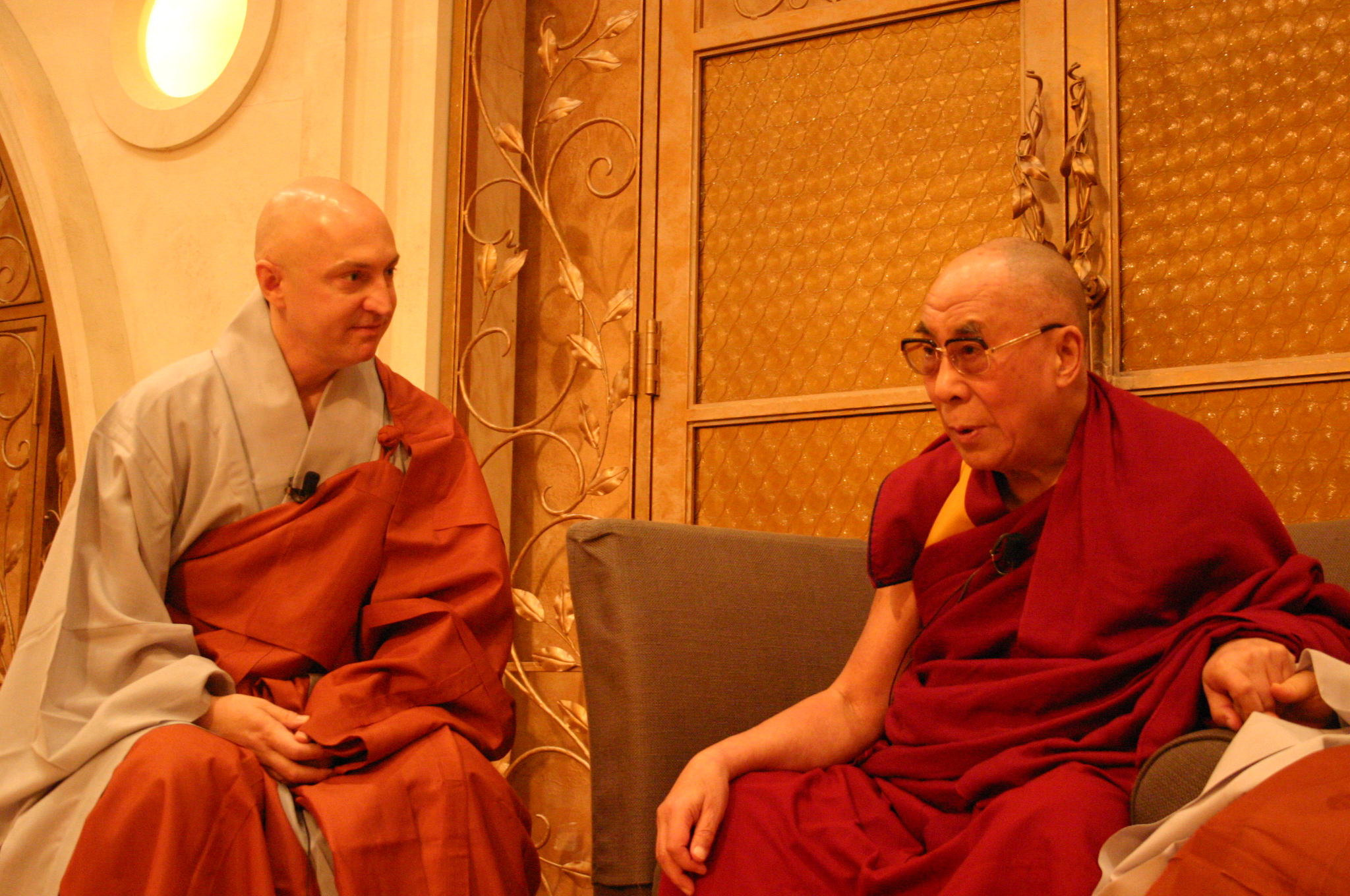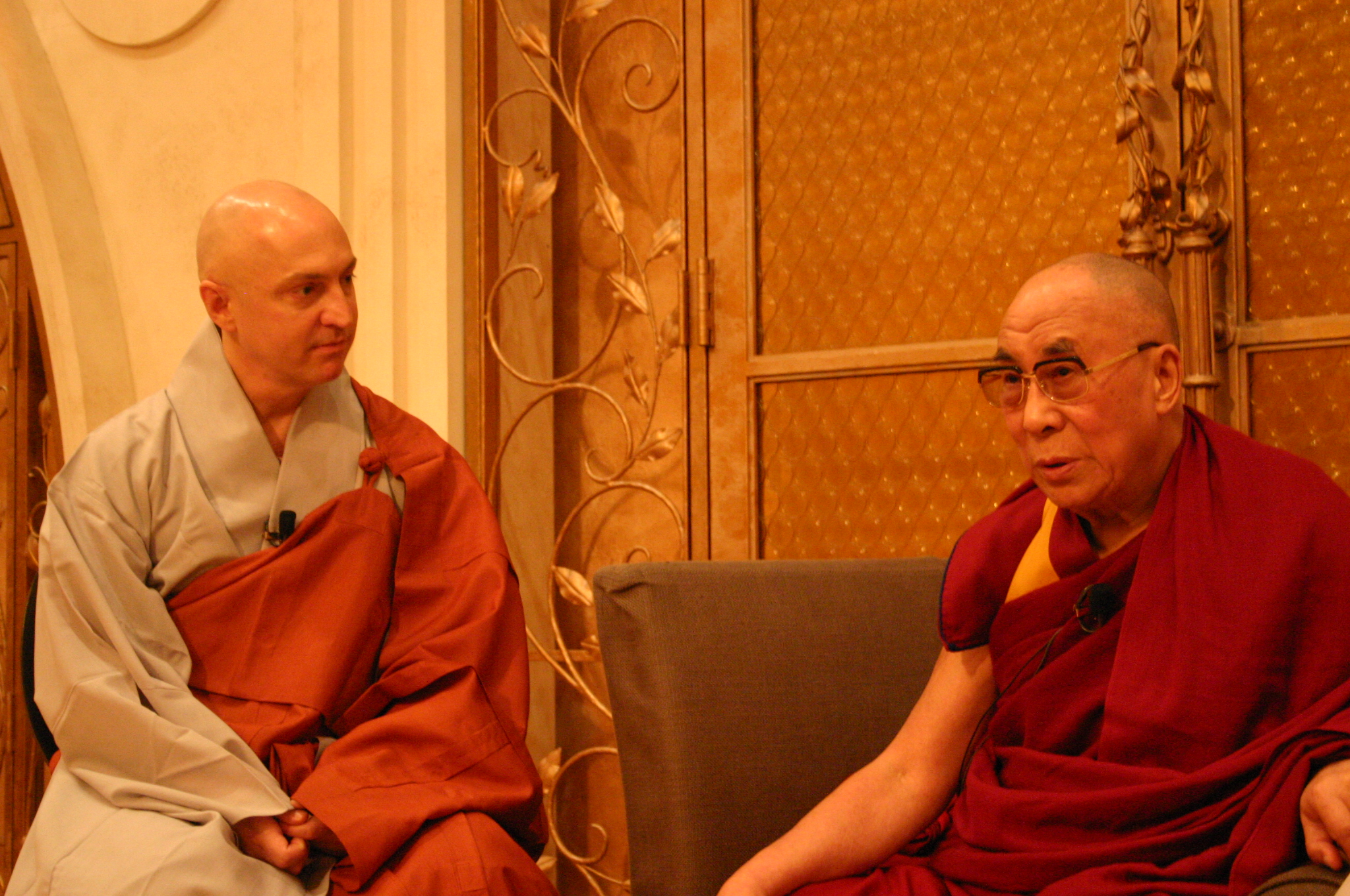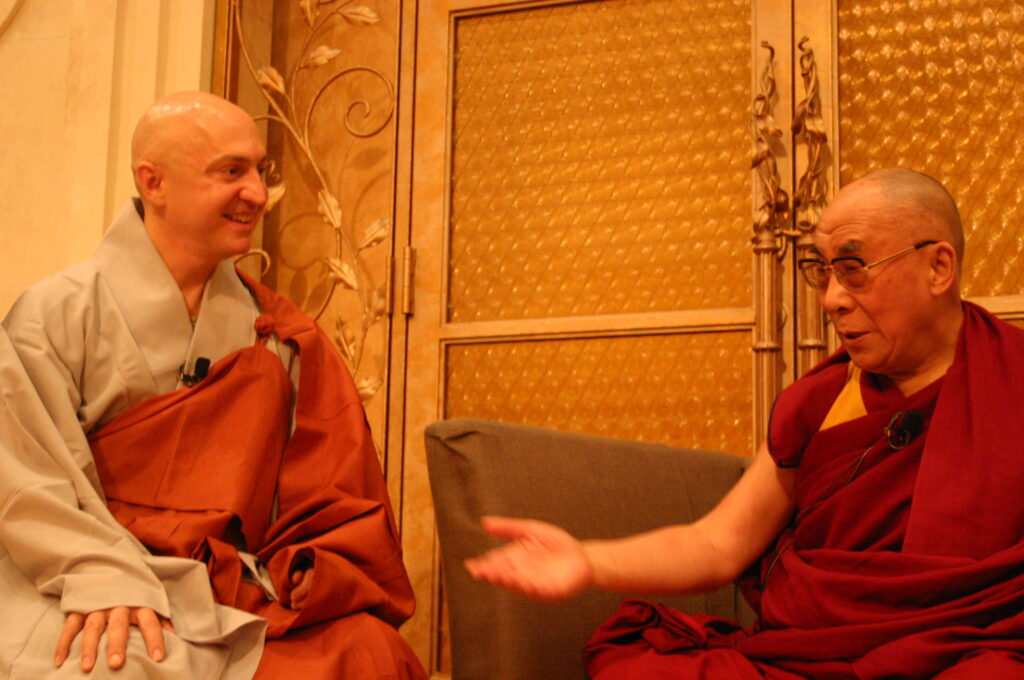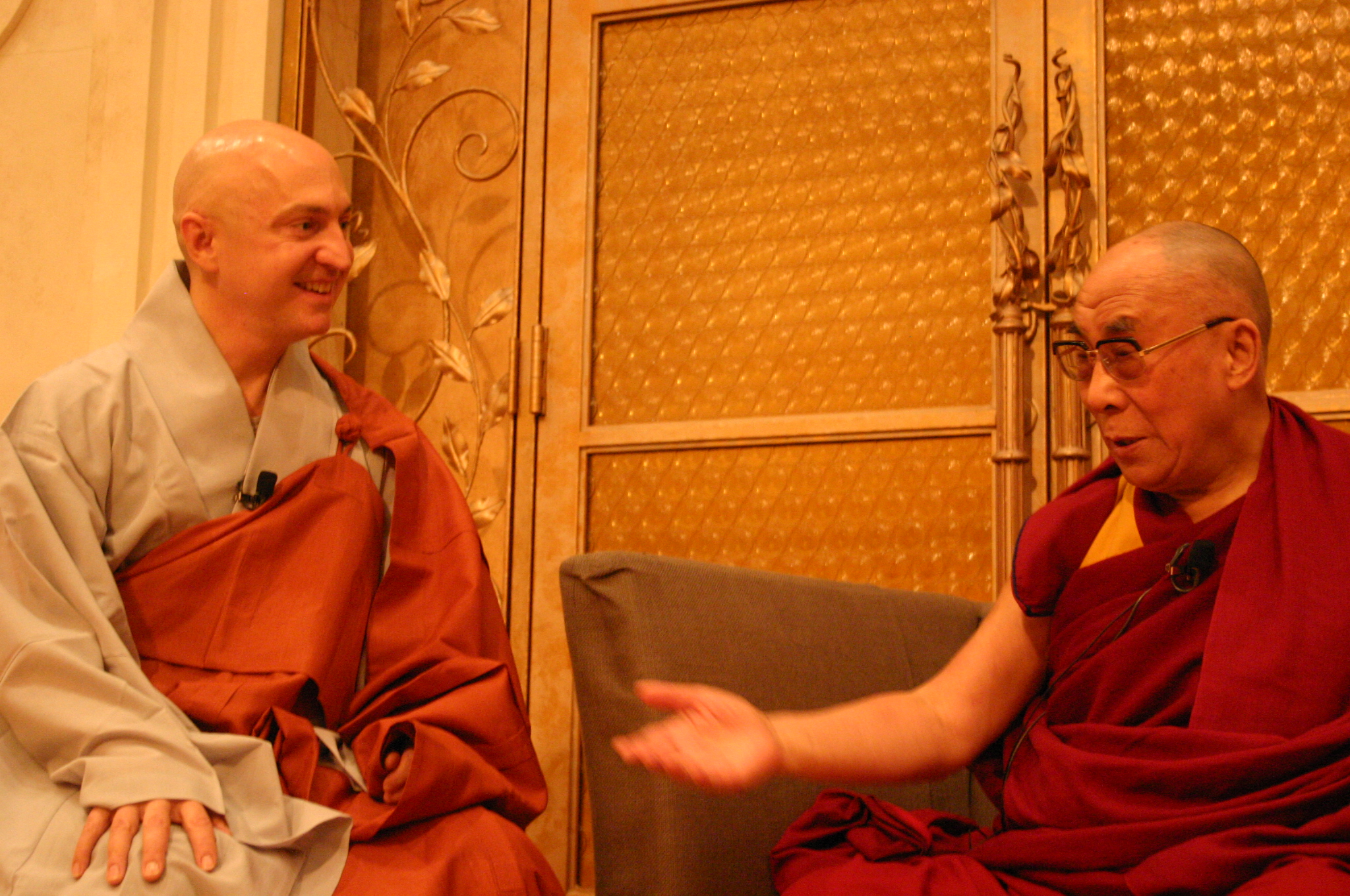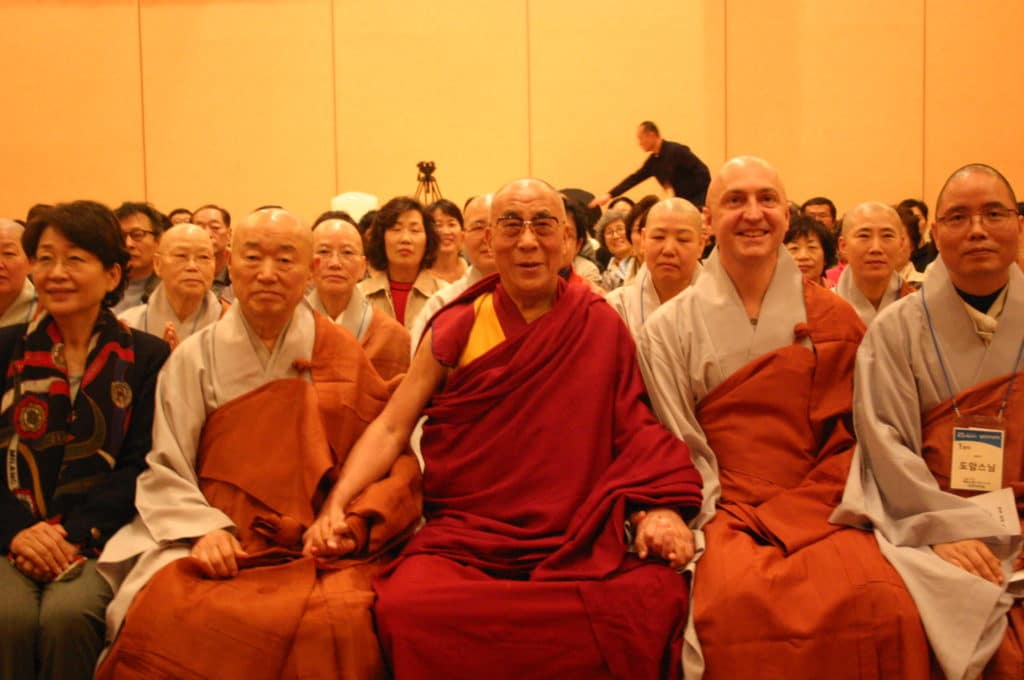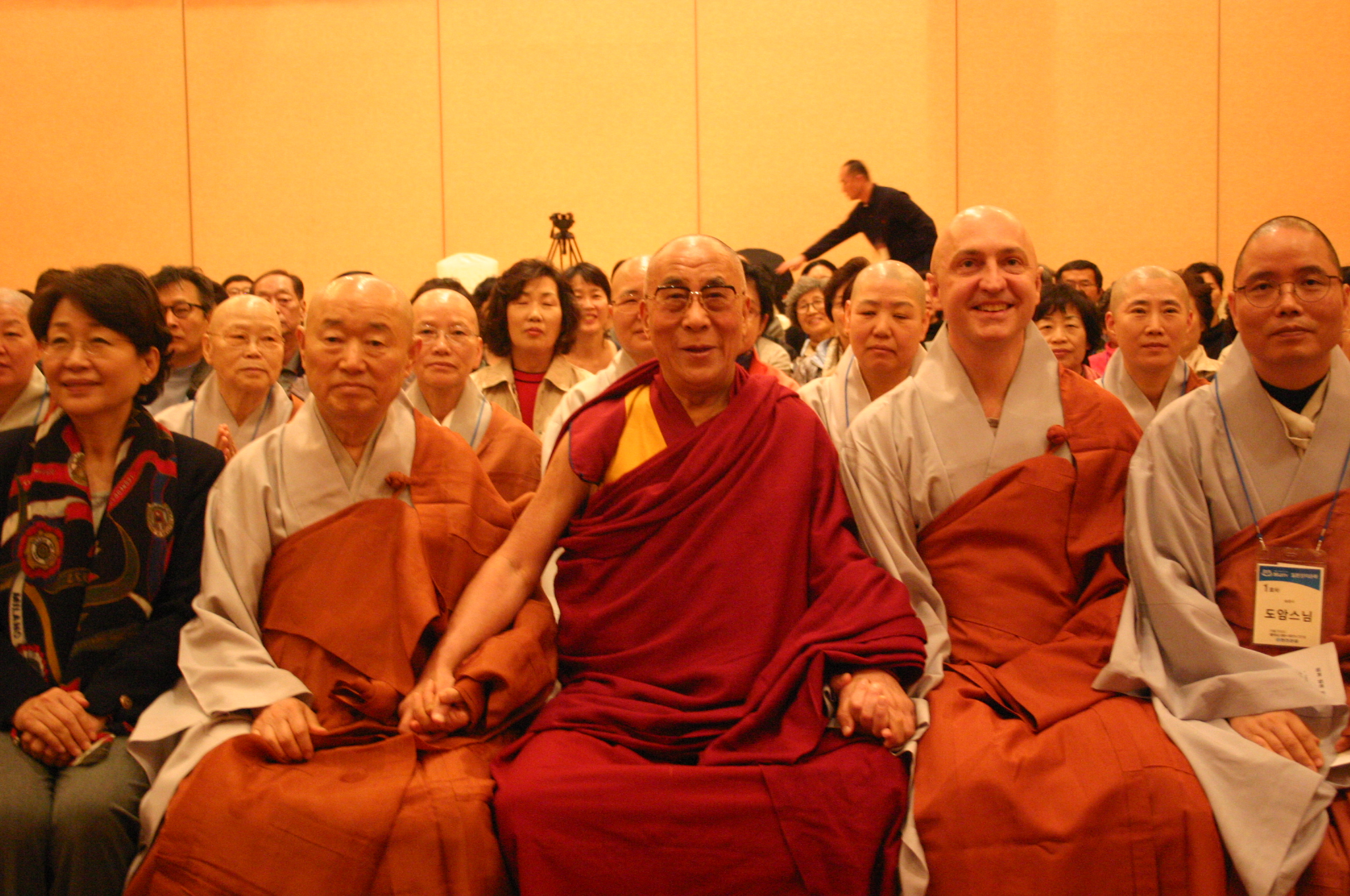 Here are the videos about the encounter [narration in Korean, but His Holiness speaks in English]: