For the high school years, I attended a very diligent and results-oriented high school, run by the Brothers of the Sacred Heart, a French-derived monk/brother lineage which had been transplanted to America from regional France. They were Catholically-strict, but not overly so, and you always felt the intention of an energy to build the inner man inside you, while they were also teaching you science or math or English or literature or religion.

Lots of truly challenging and expanding experiences there, so much of the intellect was just blown wide open into space, and edified, and spoken to, and shaped into a better form of Christian-manhood than I believe I would have ever asked realized in a public school. My family totalled six male siblings, and our parents sent all of us to this school together. So, there was a certain kind of legacy, or high academic standard, being set, which always drove me further to achieve and study harder in this very male, yet compassionately Christian atmosphere. (This was especially true because I was often reminded that my elder brothers excelled in this or that subject, usually getting straight A's, so I was naturally expected to achieve the same.)
Of all the several thousand students I moved with and studied with in those four years, there was really basically one guy who I recognized as having a basic mental-content that I could connect and resonate intuitively with, apart from all others. Yeah, there were other very colorful characters, and I definitely inhabited the edges and the weird spaces of high school life. But this guy, who I mentally connected with, despite his extreme typical-seeming middle-of-the-road normality and sort of go-along conservative middle-of-the-road principles, as opposed to my extreme and sometimes radical intuitions, he was something of substance who really had the only truly lasting impact on my life, of all of the hundreds and hundreds of students I lived with together there.
Although we didn't have many, or any, interactions or hangouts outside of the more strictly restricted form of high school life in Catholic suburban New Jersey, whenever I connected with him, I knew that there was something real. This guy, despite never hanging out in bars or parties with him, only interactions in school or on the athletic fields – – this guy had "some stuff". There was substantiality. There was not just his great performance, as a state champion swimmer with accolades. There was his intellectual and ethical and personal substance. The dude was grounded in reality. And even as a pre-college kid, I saw that quality in him, and totally respected it. Some thing, probably from his family constellation, made him an unshakable force of something good, which radiated out to me as I pursued years of rebellion and performance.
He went on to become a successful lawyer fighting for the injured and harmed; and I became a monk.
We met just yesterday, for the first encounter in over 40 years — he was passing through Zürich to get to a flight to America, and I was arriving here in order to give several days of teaching. Wonderful existential overlap.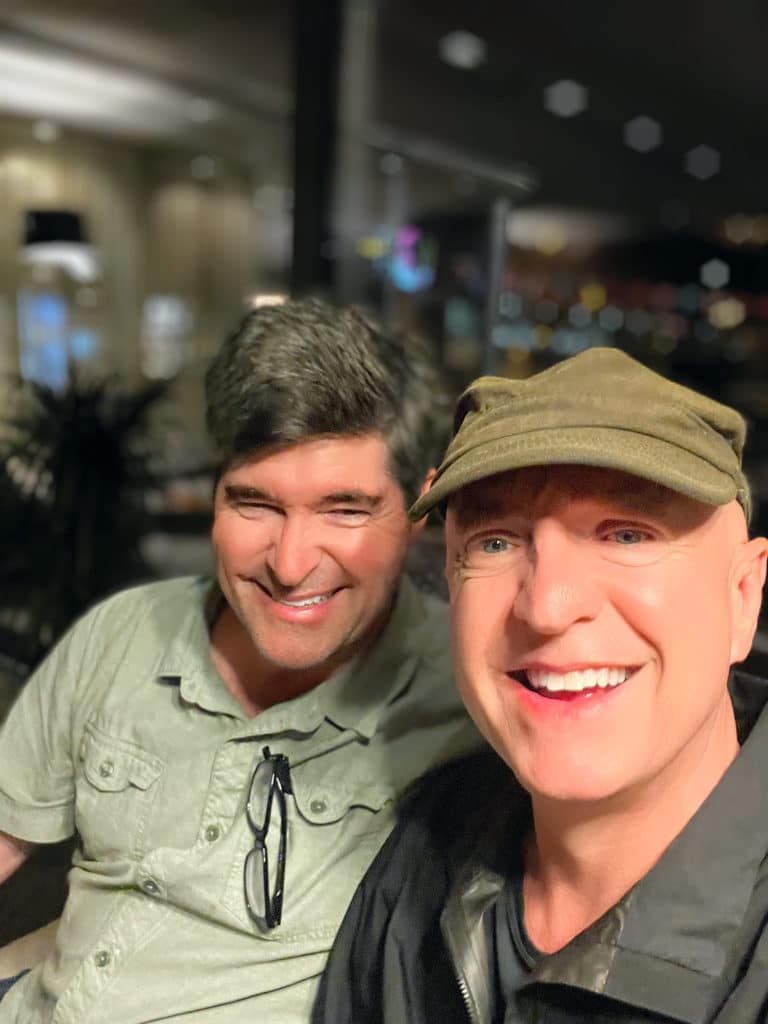 Great seeing you, Keith. The 40 years have passed like a simply trip to the bathroom and back.