The people attending Mass that day received a Gospel reading of uncommon truth and terrifying practical beauty. This woman is probably the only person in the building that day who truly understands her Bible. You have to admit, she does have a valid point, from a strictly theological point of view. She is absolutely scripturally correct, in every way, both Old Testament and New — then why are they trying to pull her down?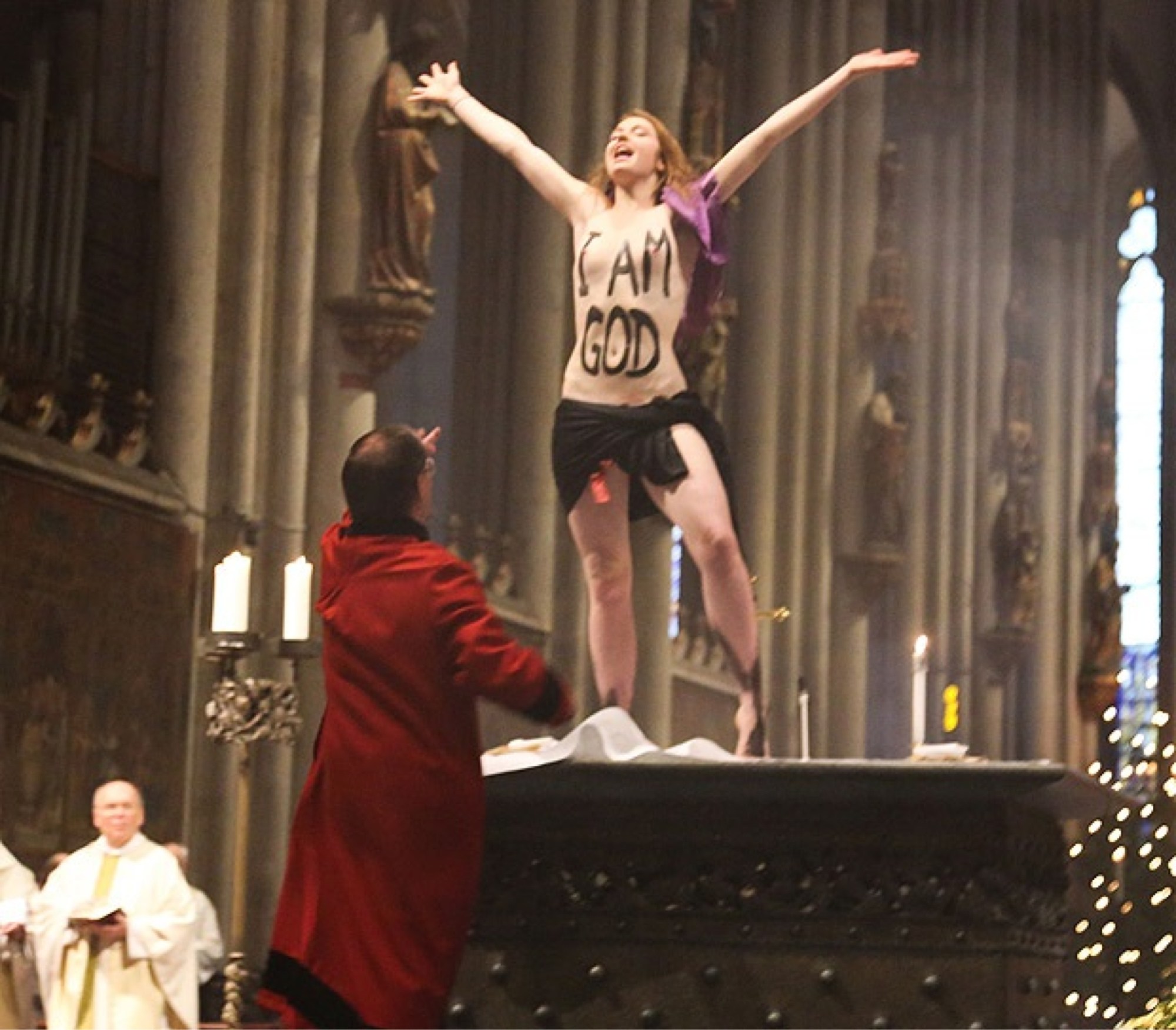 A shining goddess such as her should be celebrated with song and dance! "Praise [her] with the clash of cymbals, praise [her] with resounding cymbals"! (Psalm 150:5) This brave, free soul is merely channeling the teachings of one Jesus of Nazareth: he would agree completely with her actions, absolutely, one hundred percent. I stake my flimsy Harvard Divinity School degree on it.
In the Gospel of John 10:22-39, it is written:
Then came the Festival of Dedication at Jerusalem. It was winter, and Jesus was in the temple courts walking in Solomon's Colonnade. The Jews who were there gathered around him, saying, "How long will you keep us in suspense? If you are the Messiah, tell us plainly."
Jesus answered, "I did tell you, but you do not believe. The works I do in my Father's name testify about me, but you do not believe because you are not my sheep. My sheep listen to my voice; I know them, and they follow me. I give them eternal life, and they shall never perish; no one will snatch them out of my hand. My Father, who has given them to me, is greater than all; no one can snatch them out of my Father's hand. I and the Father are one."
Again his Jewish opponents picked up stones to stone him, but Jesus said to them, "I have shown you many good works from the Father. For which of these do you stone me?"
"We are not stoning you for any good work," they replied, "but for blasphemy, because you, a mere man, claim to be God."
Jesus answered them, "Is it not written in your Law, 'I have said you are "gods"'? If he called them 'gods,' to whom the word of God came — and Scripture cannot be set aside — what about the one whom the Father set apart as his very own and sent into the world? Why then do you accuse me of blasphemy because I said, 'I am God's Son'? 

Do not believe me unless I do the works of my Father. But if I do them, even though you do not believe me, believe the works, that you may know and understand that the Father is in me, and I in the Father." 

Again they tried to seize him, but he escaped their grasp.
And Jesus isn't giving some knockabout sentiment that he just pulled straight out of his ass after a good hit on the bong. Deeply knowledgeable of the Torah, its innermost meaning, he merely quotes back at the high priests the voice of the divine Absolute, who said in Psalms 82:6: "I have said, 'You are gods'". So what's the fuss all about?
Unless that dude in the red is reaching for something "else" — and I could definitely understand his excitement for such freedom fruit blooming on his altar — this priest or deacon is being quite theologically incorrect. He must be a graduate of Liberty University or Oral Roberts University or something. We can certainly say that he didn't go to Union Theological Seminary, or even think of applying.
"They tried to seize [Her], but [She] escaped their grasp." Just like Jesus!
?