Driven, you might say, by "the hounds of heaven", I attended Anglican Mass this past Saturday in Winchester Cathedral. I woke up before dawn in my simple pensione, as usual, did the daily Zen meditation practice on the floor before sunrise, and headed out to this ancient sacred spot to honor a holy wish of my late Mother, in a way that might please her disembodied soul. For the day, August 27, is celebrated, in the Christian calendar, as the Feast-Day of Saint Monica, the mother of Saint Augustine. And since my commitment to the practice of Zen, my devout Irish-Catholic Mother dedicated her daily prayers to "hound" her ordained Buddhist son back to the Church, in the spirit of Monica praying that her wayward son — who had "strayed" from the family's religion into rhetoric, logic, and Manicheaism, all so-called "paganisms" (as well as a prodigious foray into many unspeakable lustful sensualities!) before his re-conversion experience — would one day find Christian faith again.
I attended this service because of a letter from my Mother.
When I first ordained as a monk in China, 30 years ago next week, I sent a simple six-page letter to my parents explaining my decision. Among other things, the letter was intended to communicate that this decision to become a Buddhist monk -– however shocking or embarrassing to them – – was not a rejection of the values or even the spiritual tradition that they raised us in, Roman Catholicism. Rather, I said that Zen meditation enabled me to live far closer today Jesus's bold, brave dictum — "The kingdom of heaven is within" (Luke 17:21) — than organized Catholic observance could ever do. I knew that then, 30 years ago, and I know it ever more radiantly now.
I knew my ordination would create insufferable pangs of grief (and social embarrassment) in their sincere and deeply Catholic hearts. After all, the very act of practicing in an urban Buddhist center had already been interpreted in the family as a statement of atheistic rejection of my roots; how much more egregious is the act of ordained commitment to this Path? My late Father's only brother had been a very prominent and beloved Catholic priest in our local region, and two of my Mother's brothers had been Catholic monks for parts of their lives. In the entire time that I knew my parents, they never ever missed even a single Sunday mass, or Catholic holiday, or sacrament. (And nor could their nine offspring!) They were not just "punch-the-clock" faithful: my parents were people who remained in church, kneeling silently, long after the Holy Mass had ended and the congregants had filtered out to their cars. I remembered distinctly the feeling of frustration when Sunday mass ended, that I needed to remain there with them, and by the time I got out to the parking lot to get back in the car, all of my school friends had already long departed with their families, and I had no chance to connect with them! Such was my parents' smooth and quiet faith. So, when I ordained in China (at the Temple of the Sixth Patriarch, no less — think a man from a Muslim family taking priestly orders at Assisi!) I knew that this decision would be not only a major embarrassment for them personally, a seeming failure of parental "shepherdship", but also a terrible, even damnable shame for them in their respective families. I was burdened with awareness of these painful dimensions when I sat down to clack-clack-clack out the letter on an old typewriter in Asia.
As it turned out, my Father read just two or three lines of the letter, and tossed it aside. I can understand his rage and disappointment: He took my evident membership in and commitment to an atheistic practice as not only a mortal threat to my soul, but a supreme shame for the family. They had both made enormous sacrifices to give me a high-quality Catholic school education, including an expensive training in a Catholic prep school guided by the Brothers of the Sacred Heart. The seventh-born of nine, I was on the low end of the financial feeding-trough, but they did not let that prevent me (and my eight brothers and sisters) from experiencing the deep soul-shaping guidance that only a Catholic school education could provide. And I am forever grateful for that.
My Mother, however, read the letter to the end. She read the letter several times, in fact. She read the letter each time with tears in her eyes, this true Daughter of the Church. That is what she told me later.
Several weeks after I had sent them that letter – – this was autumn of 1992, we must remember, and email was still only a conceptual dream in some computer programmer's mind! – – one afternoon when I entered my monk's cell at Hwa Gye Sah Temple, there was an envelope placed by my wafer-thin bed mat. I noticed immediately the quality of the correctly cursive penmanship from the door frame as I entered, so distinctive and clear and clean was my Mother's old-school classical script, so trained into her under the wooden ruler of Catholic nuns in an Irish neighborhood of New York City, this child of Irish immigrants right off the boat from County Cork.
I unsealed the letter as if it were sacred papyrus, remembering (even now!) how much I didn't want even the paper to tear in the corners where the sealing was slightly permissive. What would she say? What sacred blood had I shed in this decision which my generation might find to be simply alarming, but to someone who might feel the loss of my soul among the heavenly righteous?
She expressed sadness, for sure. But there was no blame or retributive expression. Her flowing, handwritten script was full of a profoundly sincere, even self-wounding attempt to truly understand and come to terms with the decision I had made. In her very classically Irish way, her letter was filled with all sorts of unnecessary self-blame and self-recrimination, never blaming me for anything. She did not mention the family embarrassment I was making in front of her own devout brothers and sister. Rather, the letter expressed her own reflection on her perceived faults and deficiencies in not raising me with a better understanding of the Catholic tradition. Yet nothing could be further from the truth – – I have, to this day, hardly met a person as naturally saintly as her.
But what struck me most — and cut through more deeply, perhaps — was her closing statement, a sacred vow, it seemed:
"I will be as a Monica to your Augustine, and will pray incessantly that the 'hounds of heaven' chase you back one day to the faith and our Mother Church."
On Saturday, on the feast day of Saint Monica, I attended an early-morning Mass in a tiny ancient side chapel of this grand edifice of the Faith. Monica is the patron saint of all mothers, and of people-who-wish-to-be-mothers (and she is the patron saint of alcoholics, it turns out!). Together with four or five very, very elderly English gentlemen, I went through all of the prayers that she and I had been raised with. I stepped up to accept the bread and the wine. I reflected on the immense goodness ands care which had gone into raising me, which I have made a very studied effort to squander so deliciously and arrogantly over the ensuing years.
My Mother was a proud Irish, devoted to the roots of her tradition and often cited the bitter genocide of her people during the years of the Famine, which had driven her own parents out of Ireland and to American shores. (When she caught me sometimes watching "Monty Python's Flying Circus" episodes at home, she would quietly switch off the TV, as much for the smutty jokes as for its display of very, very British form culture.)
So, I smiled inside a wan Irish irony that — at least for one morning — those "hounds of heaven" had driven me back to a very, very English church, which was once the seat of English kings, to honor my Mother's vow. Had it been a Catholic Church, maybe something would be OK with that, but this was one of the most representative ANGLICAN sites, representing the line of kings which had attempted to erase her own people, my biological line.
But I don't think Monica would mind. Please just don't tell my Mom.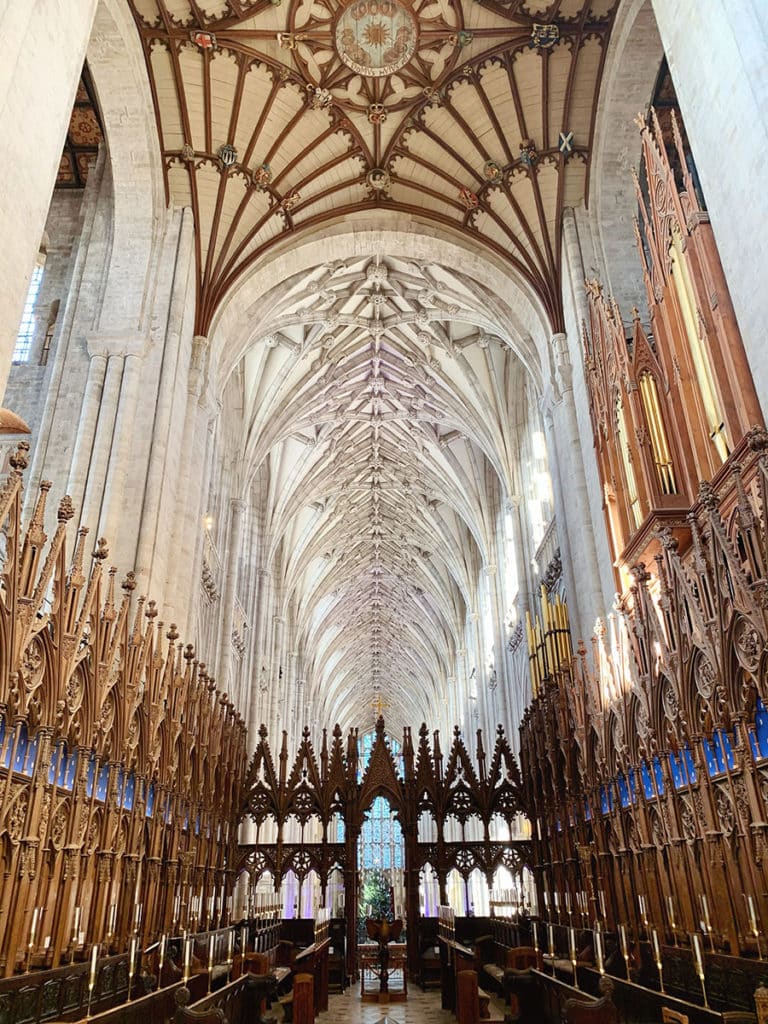 This sensuous, deeply spiritual statue of a monk in the Cathedral caught my eye. He seems also to be listening to his Mom's reply (or clapping the beat to a lascivious dance!):
A closeup: