The moment he entered the room, the sun broke through the heavy clouds.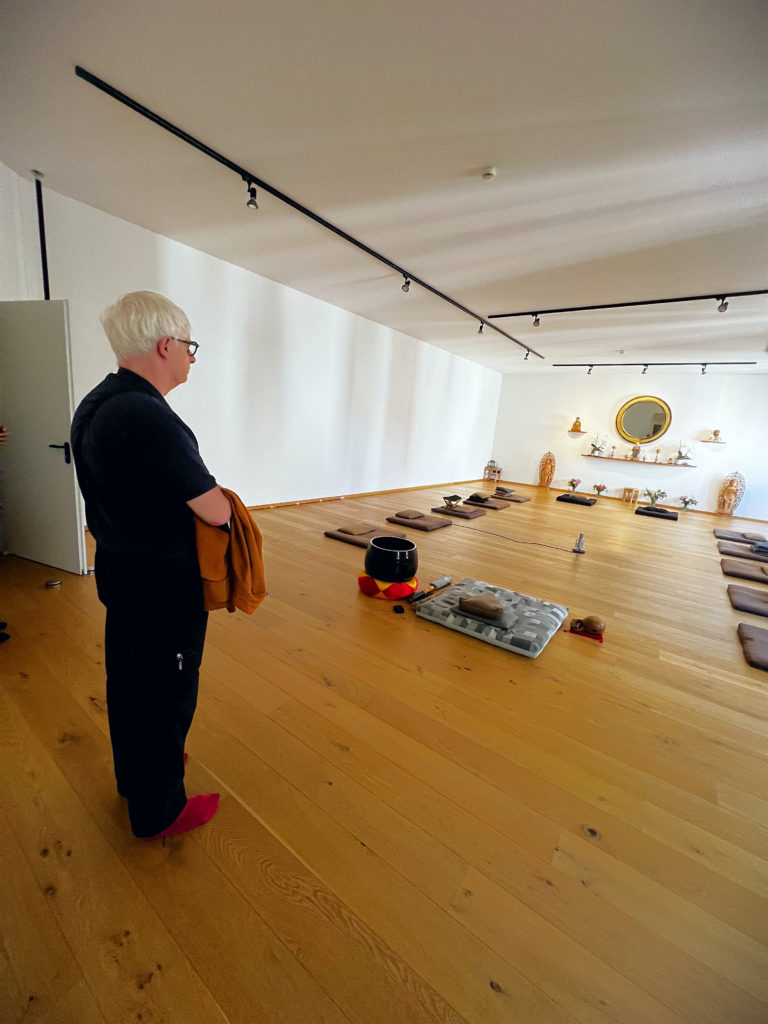 After literally a two-year retreat of watching every single damn day countless loops of my Dharma talks on YouTube that were filmed right in that spot, the first entrance of Chris Taylor (aka Arman Ray) into the Dharma Room was a moving event. This crazy retreat/project sprung up in his own heart as an unconscious movement towards re-entering the Zen practice he had pursued for many years, but has needed to modify for an effective home life. He has recently created a series of enthralling musical soundscapes and requested permission to sample pieces of my previously released talks as teaching overlay for these fascinating and addictive gyrational movements of sound. Tantra!

The light!
He stood there silently for several minutes, seemingly taking something in.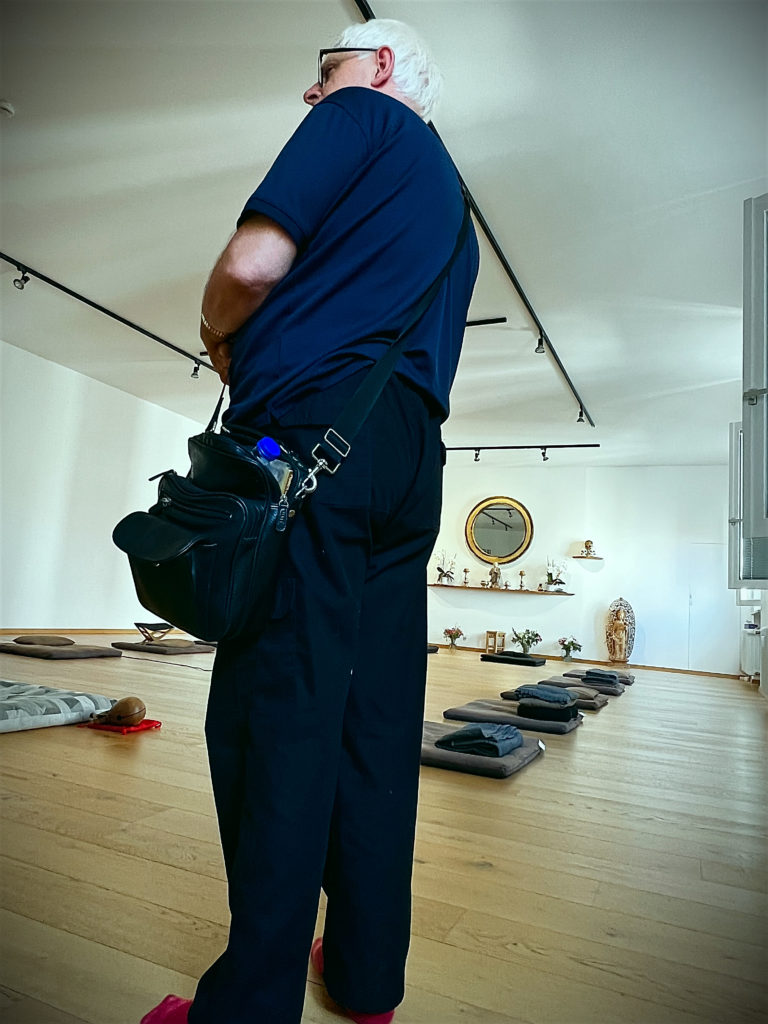 The light!
Before the Buddha… silent reflection on/in the Mirror of Zen. He has been practicing Zen for as many years as I have, maybe more. He does not need to sit down there right now to get the point.
The next day, it was straight into the studio for a five-hour recording session, with just a five minute break. Subsisting only on staled pretzels and Apfelschorle and coffee and English tea.
Chris needs Vocal retakes for the samples of my Dharma talks delivered during the pandemic, which Chris is setting to his own original techno, edgy, but also chill music which is delivering these Dharma seeds in a space of movement or activity.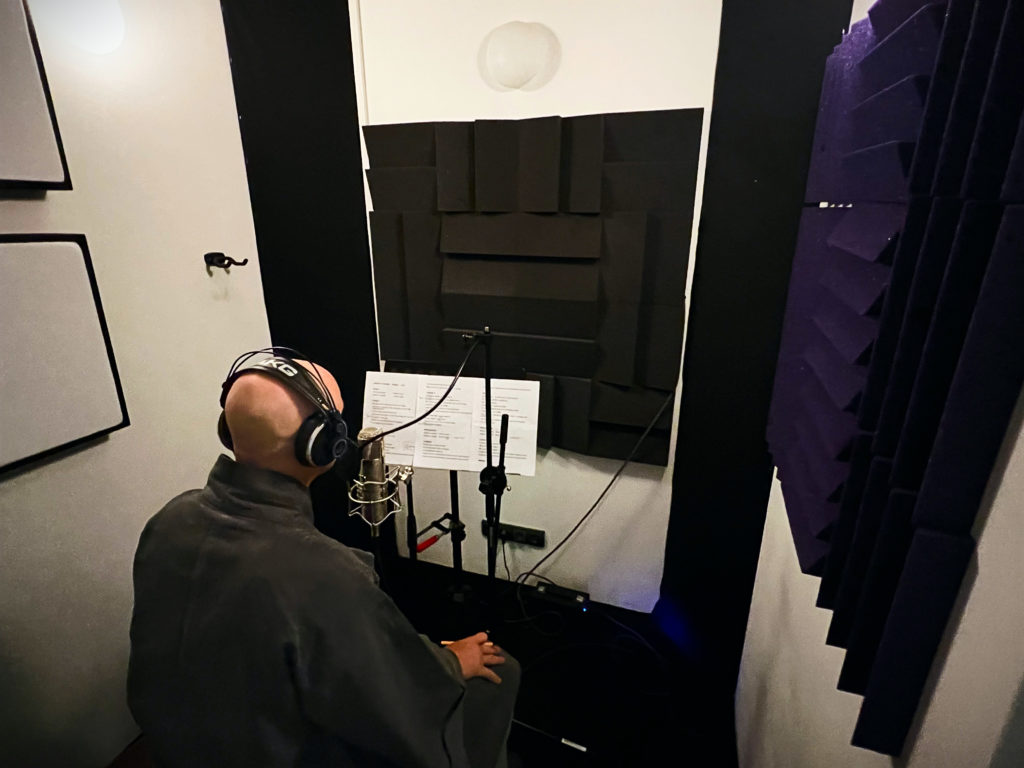 At the end, flanking Basti, our local sound engineer who Chris located on the Internet from Birmingham:
And when two days of highly focused brain work is done, a walk in the city.

He is the oral architect painter with sound that is greater than churches to pray moving around in:
Yet some nutrition is in order for this pasty Brexiteering Tory visionary. (He has sometimes been stopped by people thinking he was Andy Warhol or David Huckney, the 90-something year older of similar face and white hair and kindness and glasses and stoop – – not a good sign.
Something will need to be eaten to still the shaky sensitivity already setting in, nervous also with excitement yet he'd skipped his breakfast and took nothing at the Zen Center.
What might satiate him, this aging English body so fearful of his country going down the tubes if it gets into the hands of Labour.
A Biergarten.
Chris has brought along his long-time Dharma brother, Tony. They maintained a Zen group in Birmingham for several years, growing distant from organized Sangha after the death of their Rev. Master Jiyu-Kennett, of the very Anglican Throssel Hole lineage. Tony asked to join Chris on his trip to complete this project of his with the crazy Zen monk in Regensburg. They are catching up on old times, and sharing many observations together. Tony has attended every single morning practice and evening practice in the Zen Center, even more than me, because I was really knocked out one morning from all of the super brain-focusing of Chris's project these last days. (Even before he arrived, I was needing to listen and relisten to these tracks. So much bouncing music, however beautiful, makes a knock-knock-knock in the subtleties of your head. It has felt a bit pronounced during silent morning meditation. I don't know how people have lifestyles which pump this shit into their brain for hours and hours per day, either with ear pieces or in spaces that play this music for commercial purposes. And yet here I am… Voilà! Hopefully it will pump seeds of clear dharma into peoples consciousnesses. That is why I am participating, without any financial interest whatsoever, as far as I can tell.
We walked under a philosophical Saturday sky.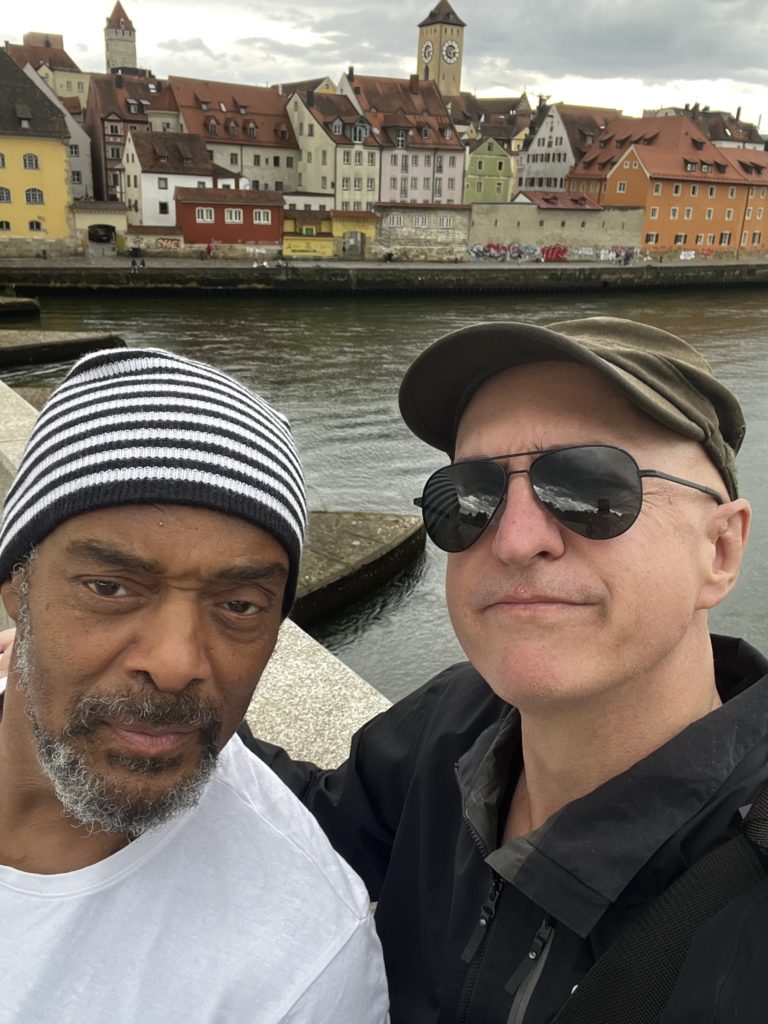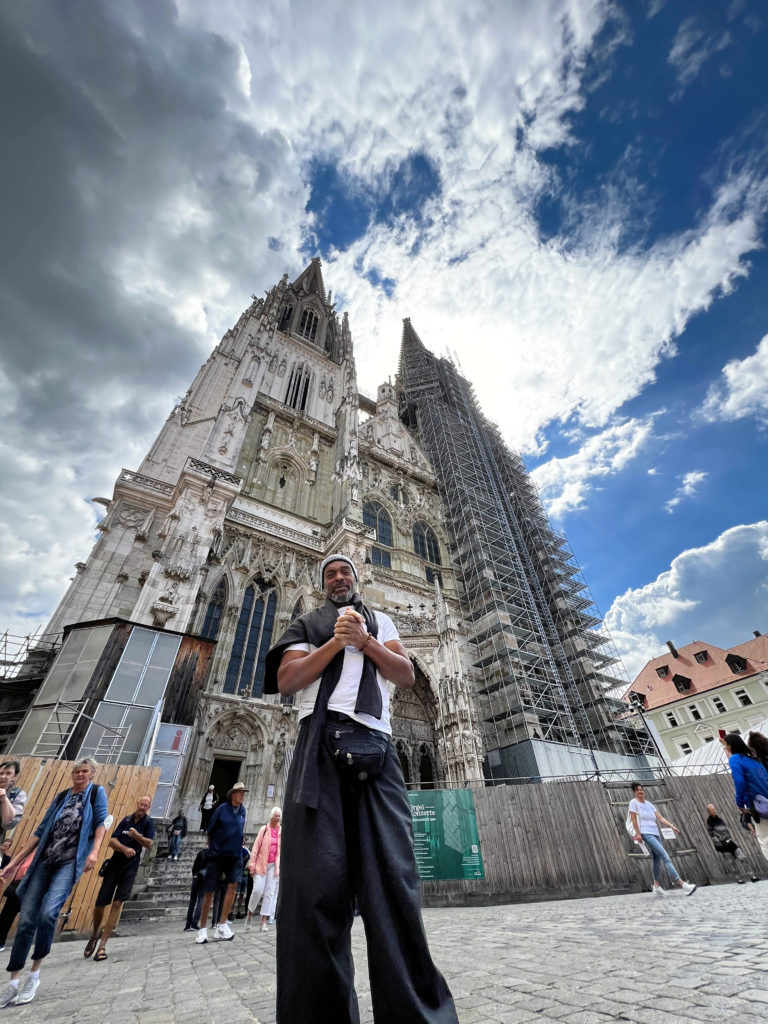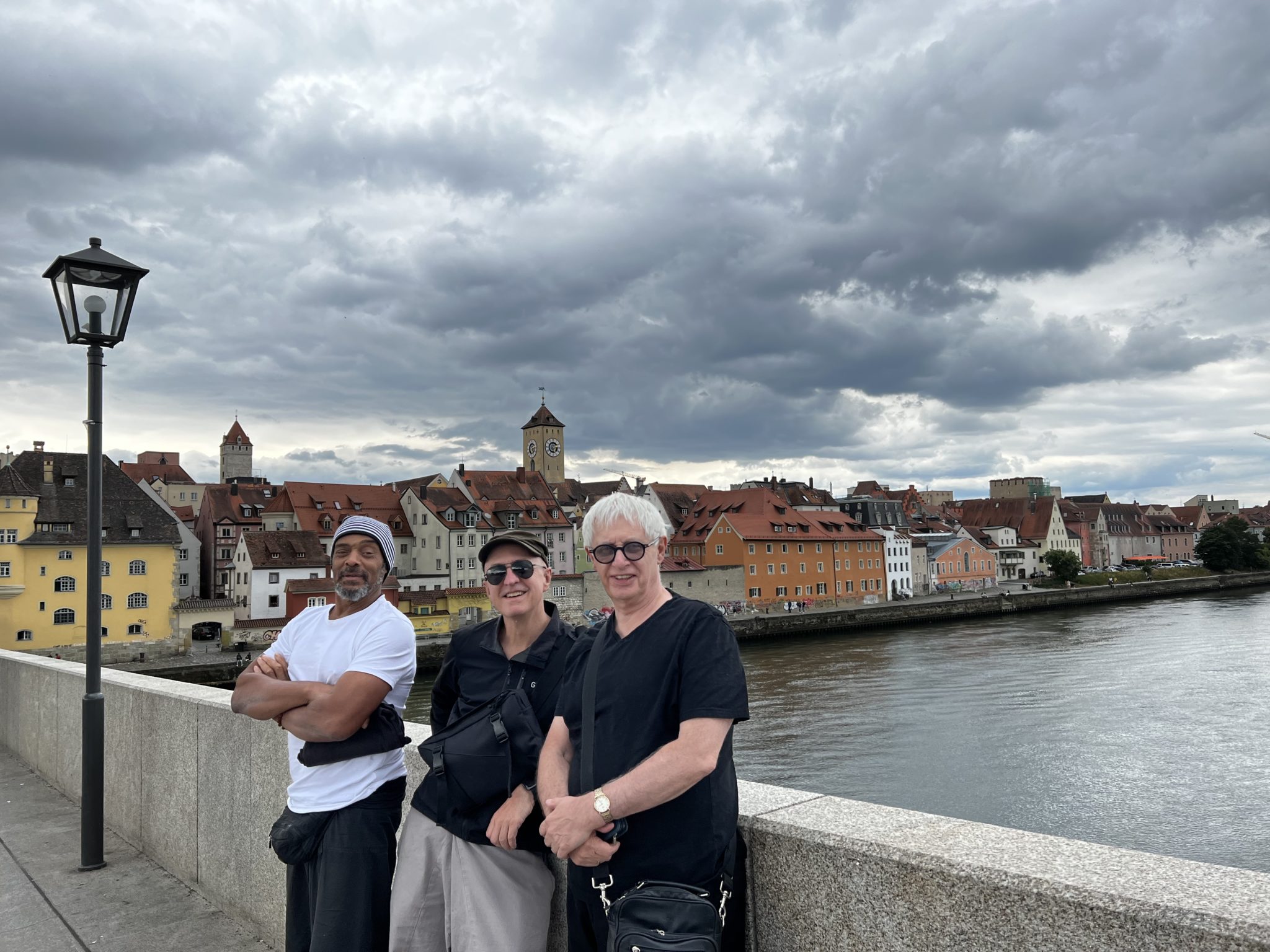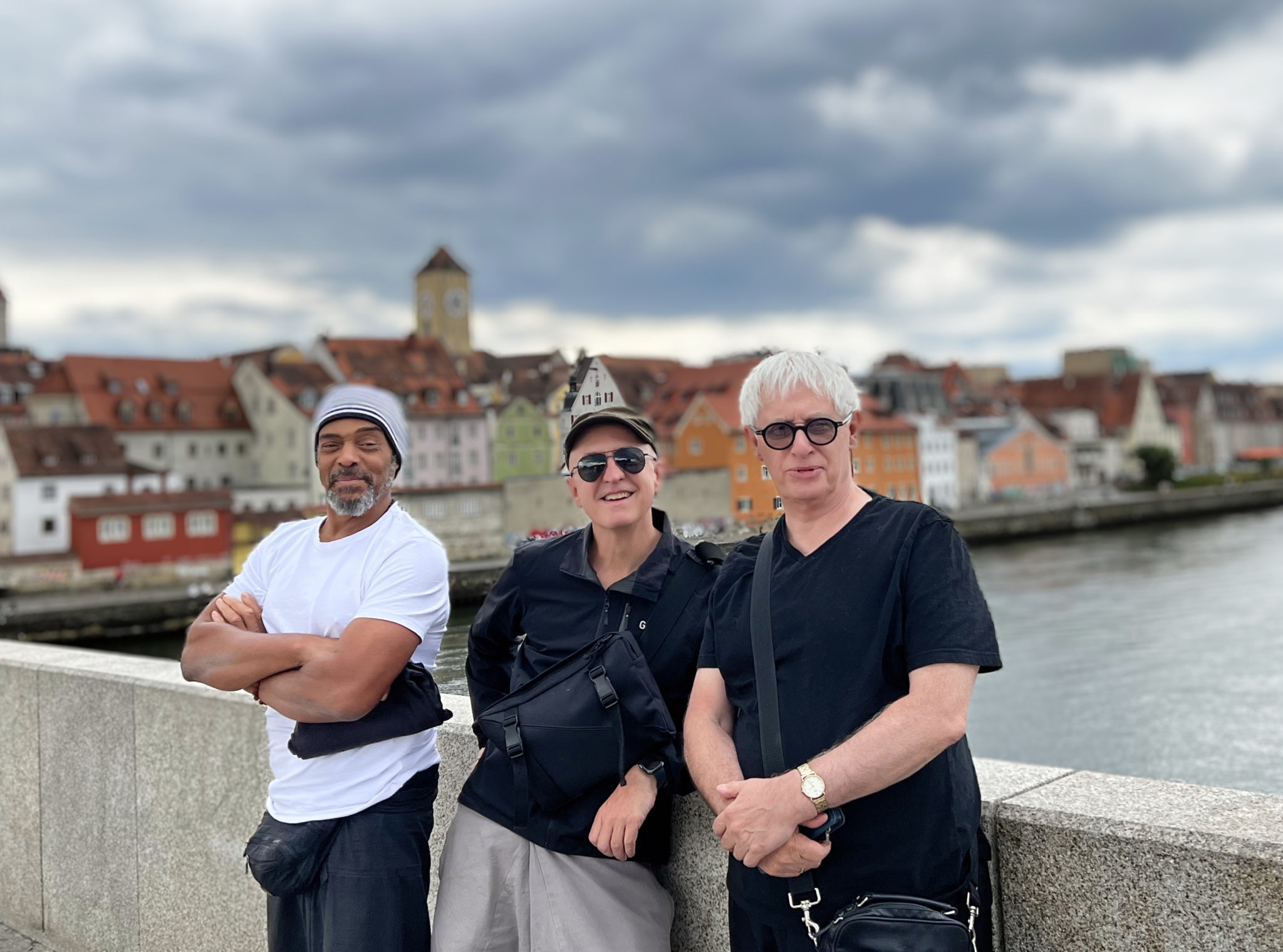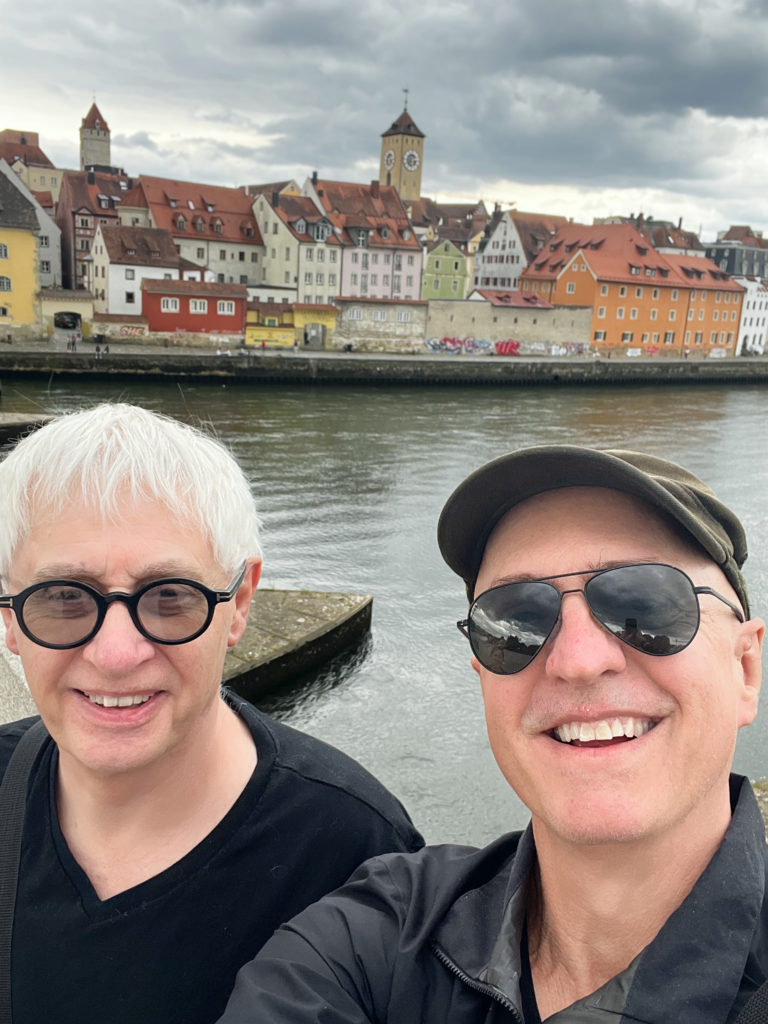 And Tony loves Sungju Bodhisattva-trainee. 늦갓기.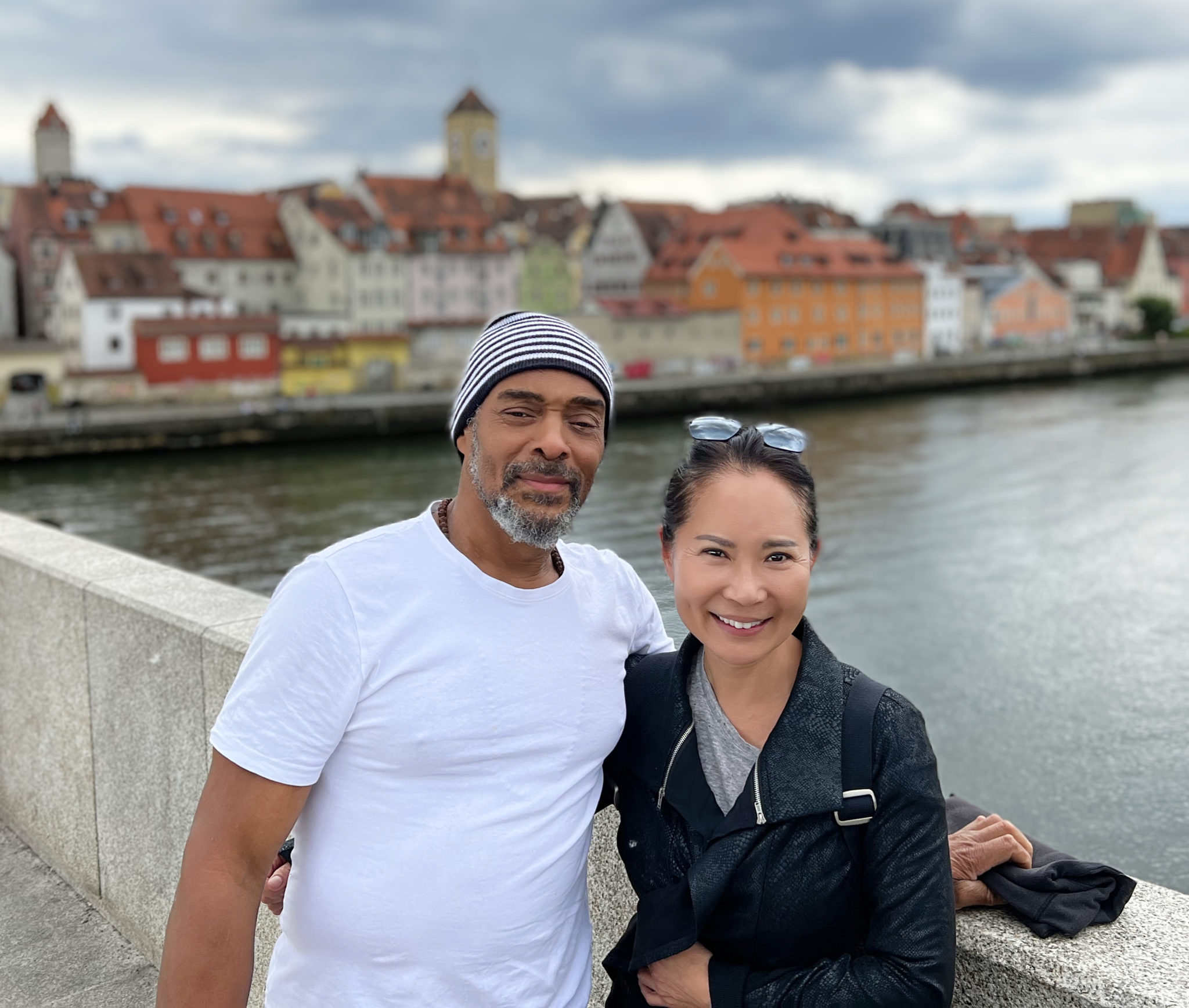 Der Abschied: