Here are a few pictures I recently discovered while going through some old emails. The photos were taken during a visit by the Park family of Seoul to my last 90-day Kyol Che in Korea, 2015/2016, at legendary Songgwang Sah Temple, on Chogye Mountain in Chollanam-Do, South Korea.
It is customary that, if a family makes a donation to the retreat group, they will name the monk who has "inspired" the donation from the family to the temple. The donation can be anything from sponsoring a special meal for all 100 monks for the day, or it can be a cash donation to support the considerable expenses for a mountain temple to house 100 male men monks for three months, the expensive heating oil which must be trucked up the mountain and the medicines and staff salaries for the front-office help.
When that family makes a donation, it is traditional that the monk who is connected with them should have tea with them in a special room set aside for this purpose after the general lunch meal for the assembly of monks. Each temple has this culture. When I was able to secure a retreat where I was permitted to have total silence, I would meet the donors (usually from the big city, like Seoul — a 5-hour drive to us) in the Tea Room located away from the meditation compound, fenced in with high wattled-rock walls. I would prepare and serve and drink tea with them in silence, which was liberating for me, of course, but extremely awkward for people who don't ever swim in that delicious solitude of Now. I was such a hard-ass about the silence that I would scribble down thoughts and reactions as little as possible, too. It was always a balance to be worked out, inside, because people from outside usually bring an air of complicated festering and unworkable stress-points.
On this visit of the Parks, during my final retreat in Korea, I was also on silence for the entire 90 days. It was so liberating! This is one thing that ordination-age seniority in the monastic order brings, over time: the greater freedom to be trusted to restrict my practice and not need to just accept all of the social burdens that can come. This was especially true since I was the very first Western person that any of these monks had ever, ever interacted with, save from watching reruns of "Friends" to practice their English. So I often needed to deal with attentions which were not only unwanted, but truly hard to just absolutely dismiss or ignore (my default mode) because they came from a place of extreme naïveté and innocence on their part. I never liked to negotiate my basic position under the considerable pressure of being the lone Westerner in the retreat — the one who starts from a great negative deficit in the Confucian system — the one who needed to show that he "got" it about what needs to be done to survive the Korean mental/social gauntlet (cf., Squid Games or Old Boy), to show that you get their pain, their historical trauma, so much of which is also bound up with issues of American history and a militaristic/paternalistic alignment of the two countries where your citizenship gives you an outsized place in any situation (for better or for worse). For some Korean monks, it was something of a fantasy to finally tell a real live American, for the first time, in the flesh, how angry you feel that America might have the boot on the throat of Korean reunification, their deepest unrealised natural aspiration, it would seem.
Anyway, the Parks are a very precious family who I have grown up with a s a monk. They were one of the first "international" families that helped me to find my feet in Korea, when I had no facility with the language. They helped out my Teacher when he needed help with projects. Every year, following the 90-day winter Kyol Che in dirt-poor Shin Won Sah temple, when we returned to Seoul, our entire international family was invited to their home for a heaping meal of traditional Korean food, all cooked lovingly by the matriarch of the family, the ever-young Shim Ji Hwa Bosalnim. (She is the elderly woman in the photos.) And the family would give every nun and monk an envelope for about $500 as we left the house, a little offering against medical expenses, and the wish to (one day!) have accumulated the $1000 to get a plane ticket back to visit your parents sometime every three years or so. For most of the monastics, scrabbling this together at least as an emergency ticket that could be employed in an emergency, was a great gift. No one ever did any sightseeing with this.
These photos represent me on silence-practice, if you can imagine: I am doing my best to thank and help this family of sincere believers who have driven a great distance from an ungodly hour in Seoul to Songgwang Sah Temple in order to leave a donation to support the monks in their effort to wake up and help all beings. And it is hard to express what it is to live in the flow of that generous mechanism. You really get stoked, in your hard and lonely efforts facing the absolute heights and depths of consciousness, the conditioned psychologies that emerge and churn sometimes, staring those thousands of hours at the floor, to have some visitors come down who take interest in your efforts, even though you don;'t speak with them, and who wish to make practical offerings of mind and heart to move that work forward — not just for you, but for your fellow-travellers, as well.
Donation-culture is what makes these teachings possible. When you give, you benefit from having made an almost electrical "valence" or affinity with deep-scientists plumbing the depths of mind; and when you are a recipient, as I have been for so long, in that icy loneliness of your practice and human isolation, man — it is an experience I wish that our students in the West could have! So many people carry on their practice against great domestic or personal opposition, not least of which is merely the sheer weight of entropy and "busyness" in everyday life. Having the donor-culture of temple culture really lets that wall of isolation lose some of its most jagged edges. To know that you are practicing in some out-of-the-way mountain location, and a group of intelligent, faithful people want to make an effort to support that? It is an amazing feeling of wind in the sails of the day-to-day effort.
So, I am not talking, during the visit depicted in the photos.
But I am talking, really. Talking with the heart that's finer and more enduring than merely "Thank you for your donation".
It is a speech which explains why I still do this today.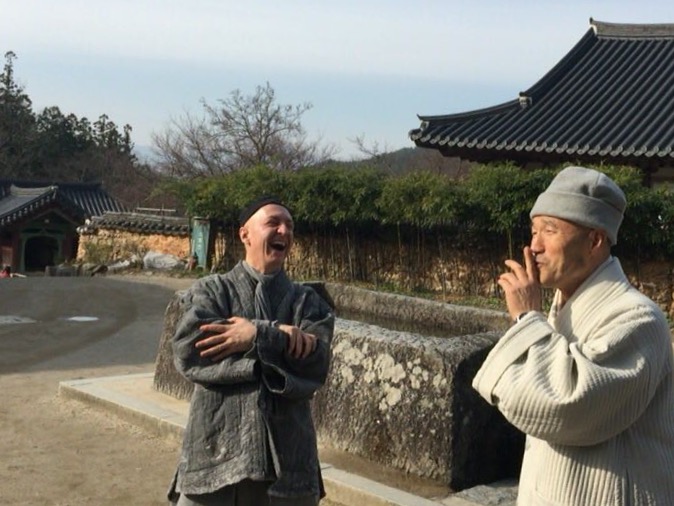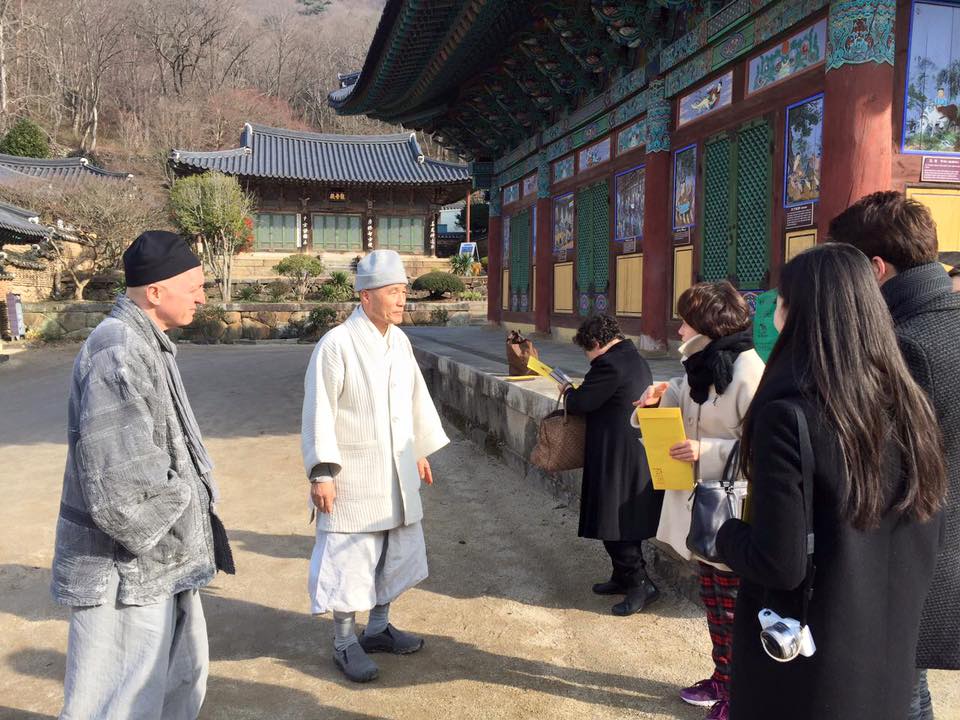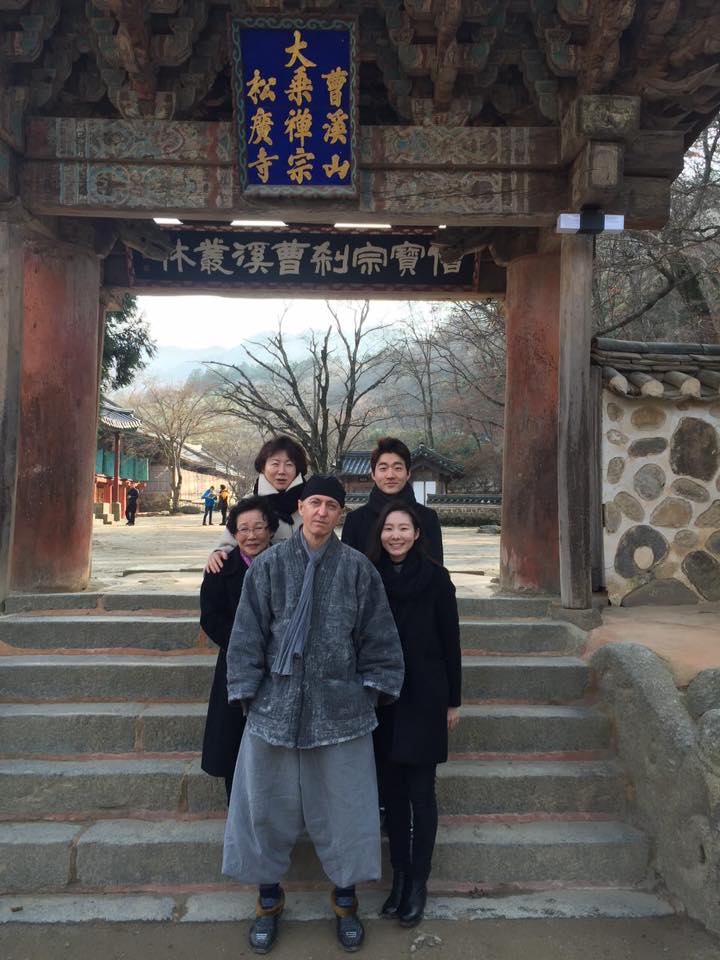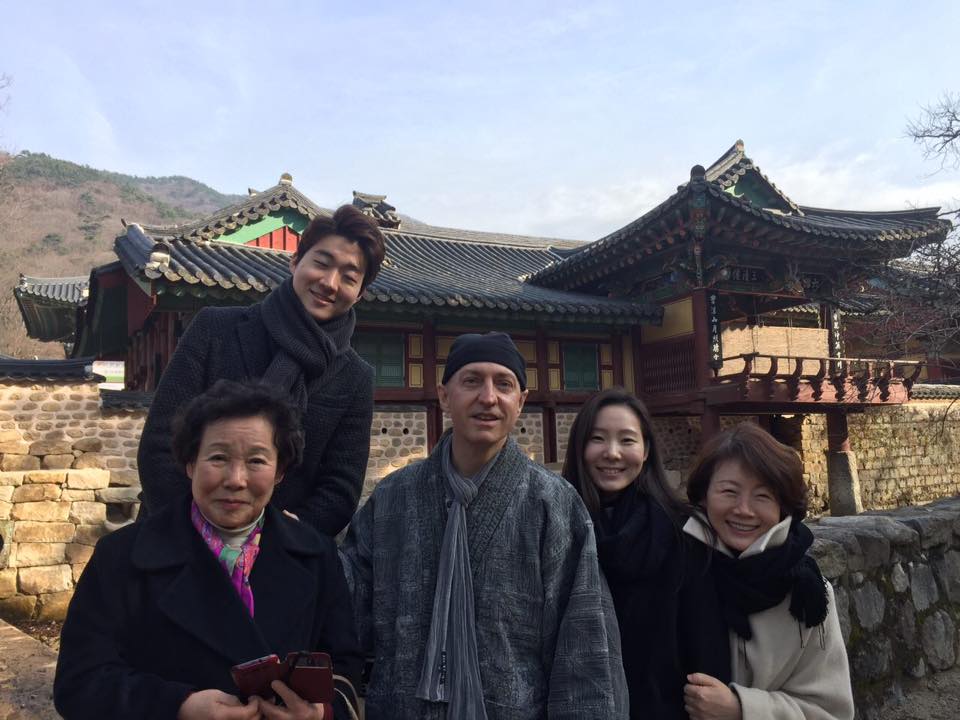 The great Shim Ji Hwa Bosalnim — the family Matriarch — if off my right shoulder in both photos. She is a baby at heart, and everyone who meets her just absolutely loves her.
At my left shoulder, in both photos, is the daughter Yorae. The family used to trundle her out for the foreign monastics at the end of our end-of-retreat offering-meals at their home, and we would hear this just-post-infant lug up a largish (for her stature!) violin onto her shoulders, and she would squeal out something orchestral.
Now, she has been a violinist with the Bayerische Rundfunk Orchester (one of Germany's best), the Kassel Symphony Orchestra, the Budapest Symphony Orchestra, and a whole bunch else.
Our basis is silence. But our speech is the music of the wordless heart.