On the penultimate day of the 90-day intensive retreats in Korea, the Kyol Che or ango, all of the bedding we have each used (consisting of one thin blanket-like bed-mat, a blanket, and a pillow case) is washed and hung out to dry in the burning late-summer sun.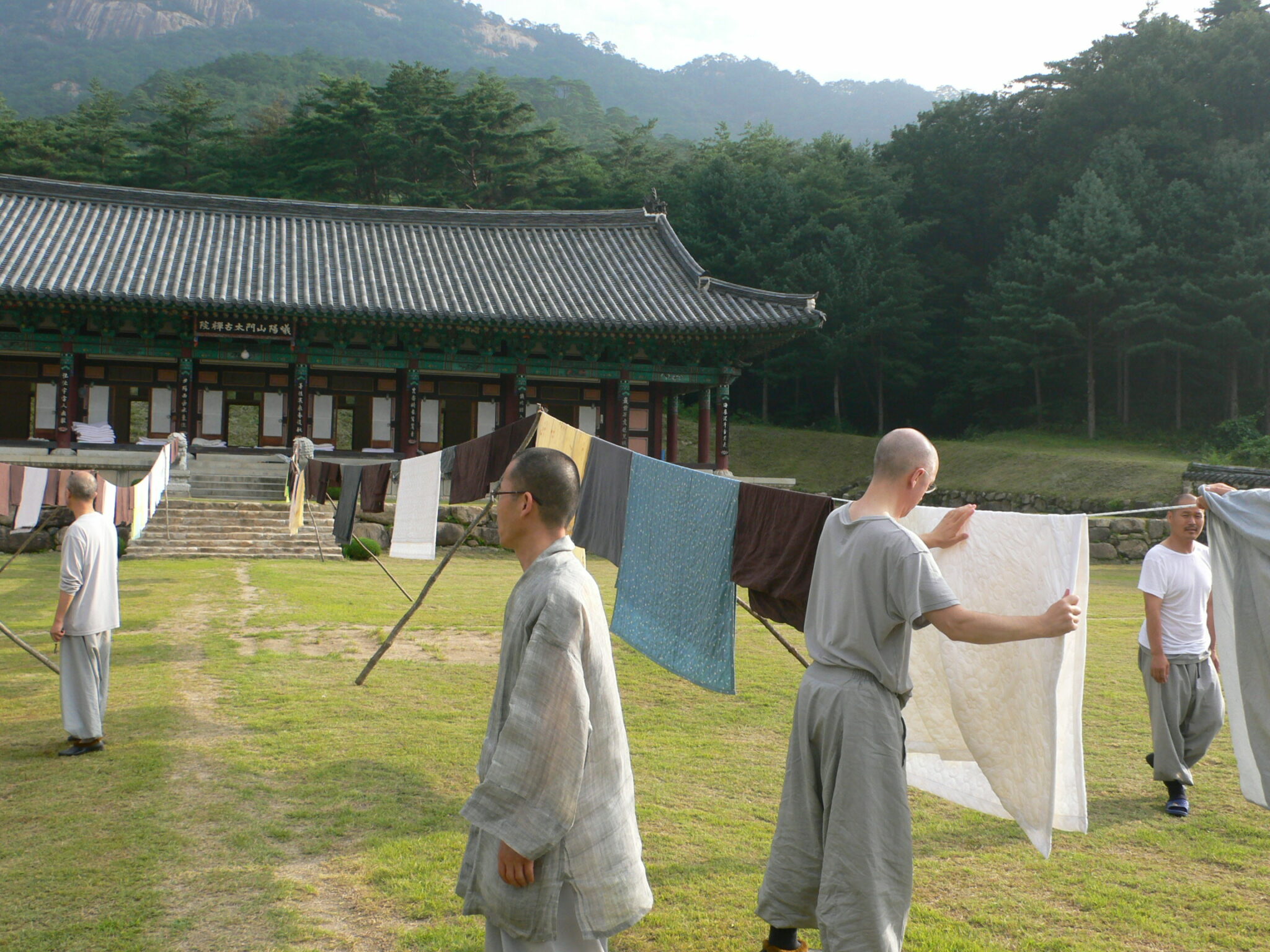 The entire temple is cleaned, and watermelon is served at some point in the middle of the work period. Everyone has trained very hard for three months — there is happiness in the air with clearer minds and purer bodies made thinner by the rigours of the training and the simplicity of the temple food.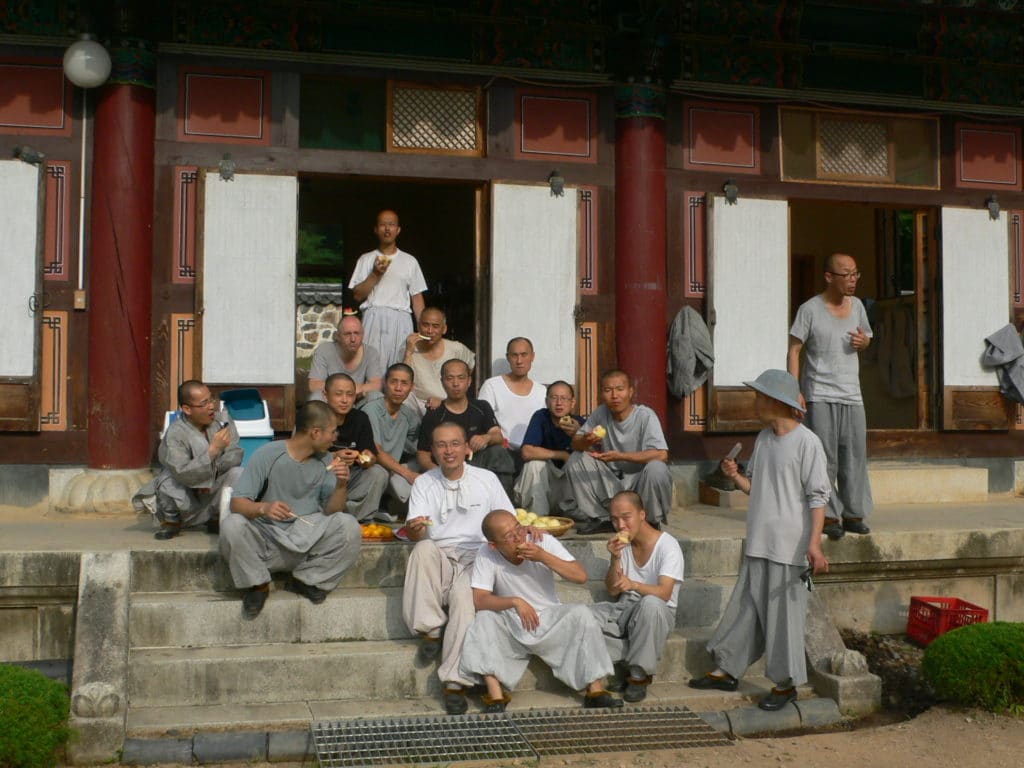 These photos are from the final day of my second retreat at famed Bong Am Sah Temple (휘양산 봉암사). Most of these guys were sure that the first white guy admitted to this legendary temple would not succeed at the intense community life and hard work required. For the first few weeks, I was also a little worried. It is an assembly of about 100 monks, spread over three meditation halls. There is lots of heavy farm work. Many Buddha halls to clean every day. There were old water tanks that needed to be cleaned, rock walls to repair and maintain, constant cleaning up of branches after the daily rains of the summer monsoon season. And there was also a very strong and strict training regimen. There is not a single day off for the entire 90 days, nor Internet or phones or newspapers.
Yet several times, I was called out for my efforts by the resident Zen master. He used my practice there as some sort of bodhisattva cudgel to inspire the monks for whom this kind of retreat might just be an accustomed (and required) stop in their Zen career. I experienced a full-body wince as he spoke, my head trying to burrow down through my enrobed chest.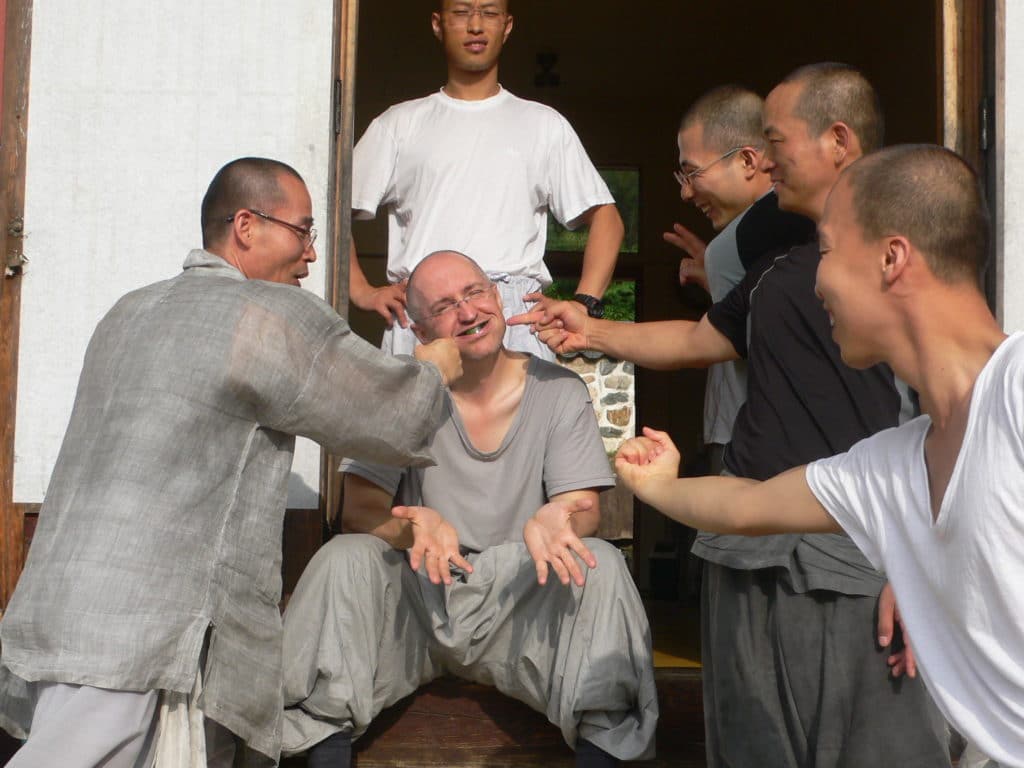 For pretty much all of these guys, mostly raised in the provinces and from humble backgrounds, it was the first time to live with a foreigner. There was definitely some resistance, as there usually is: you kind of need to "prove" yourself. This is especially true when you were of a renown where you were often stopped on the street or in restaurants or while travelling on the subway, asked for advice or (too often) an autograph. When the top of the entire 1,700 year-old Chogye Order publicly praises the person who is "saving" (his words) Korean Buddhism, the guys can really put the screws to you to see what you are really made of. What's going on with this? Is this some fiction, about this guy? Is he just a good speaker? Is he getting this praise just because he's a white guy practicing this tradition, and so "gets by" on some unearned credit? Or can he actually handle the rigours of communal life in a temple which is so proud of its ancient traditions that the temple –alone among all Korean temples — does not admit laypeople on any other day of the year but Buddha's Birthday? (One of the retreat jobs was a rotating team of monks who would walk the peaks of that mountain in the background, making sure that hikers did not wander into any of the temple's thousands of acres of mountain serenity. One of the reasons they do this is because forest fires in that tiny country happen mostly due to some hiker tossing a cigarette butt, or cooking something. Monday mornings, there are often cup-ramen containers and throwaway wooden chopsticks and tissues from picnicking meals over the weekends, when the hordes descend.)
From the looks of these pictures — which I discovered accidentally only recently after years of not seeing them — the American's efforts might have done some small part to satisfy their concerns. There was monk-love in the air. WHEW!! — what a relief!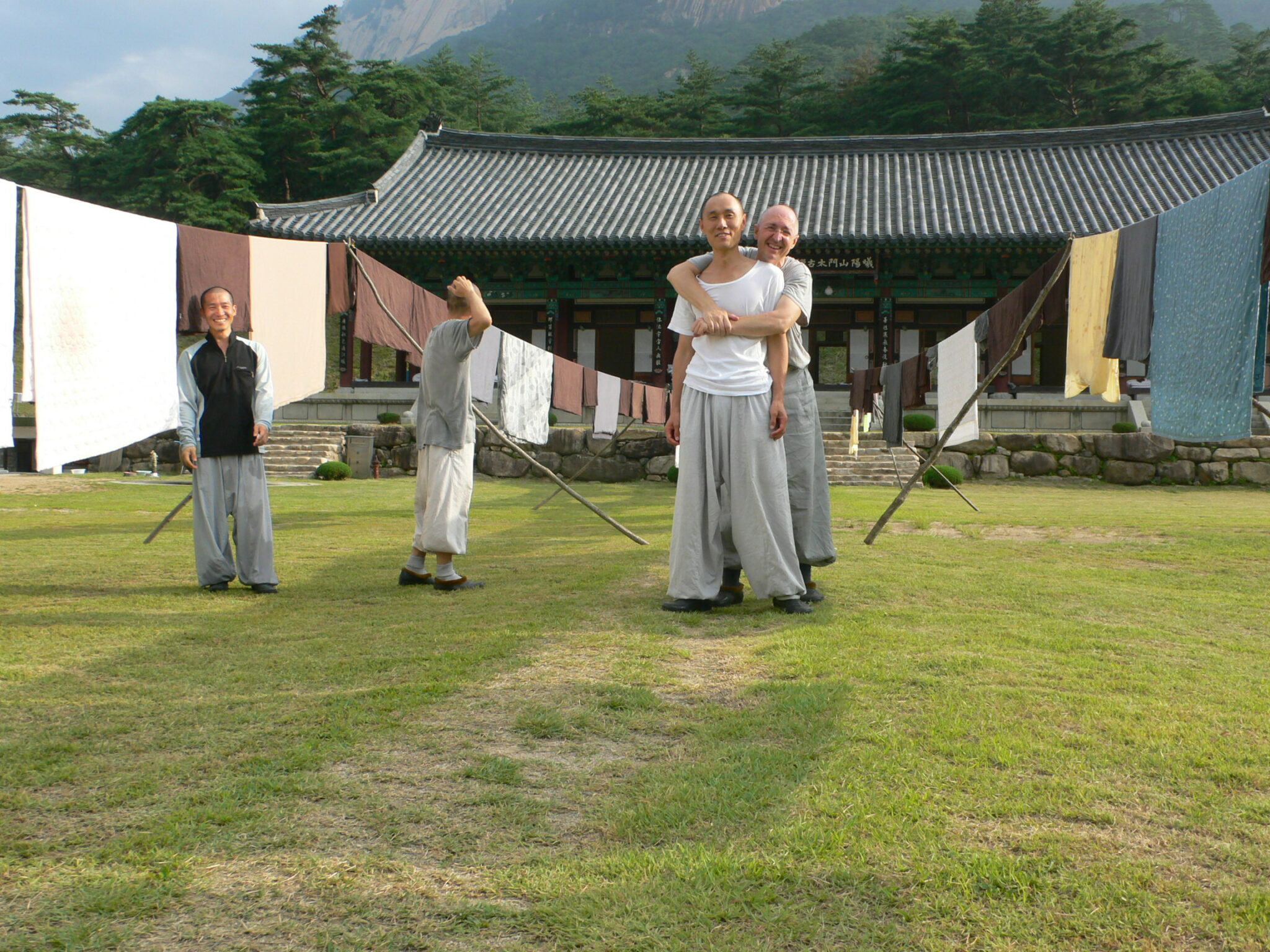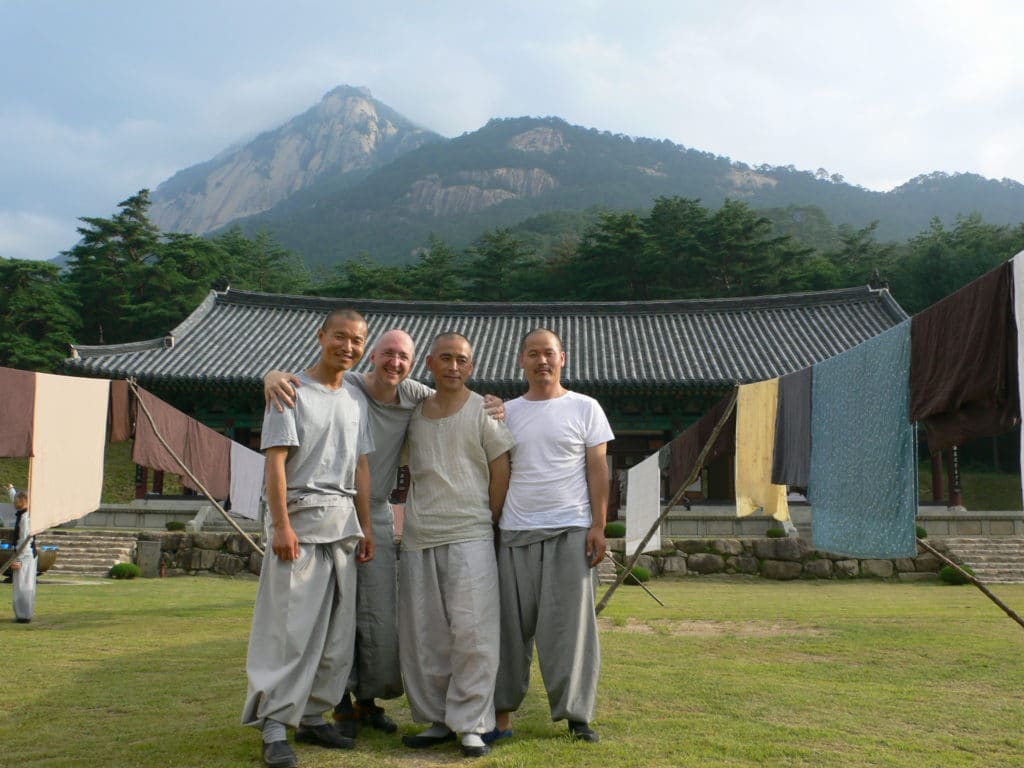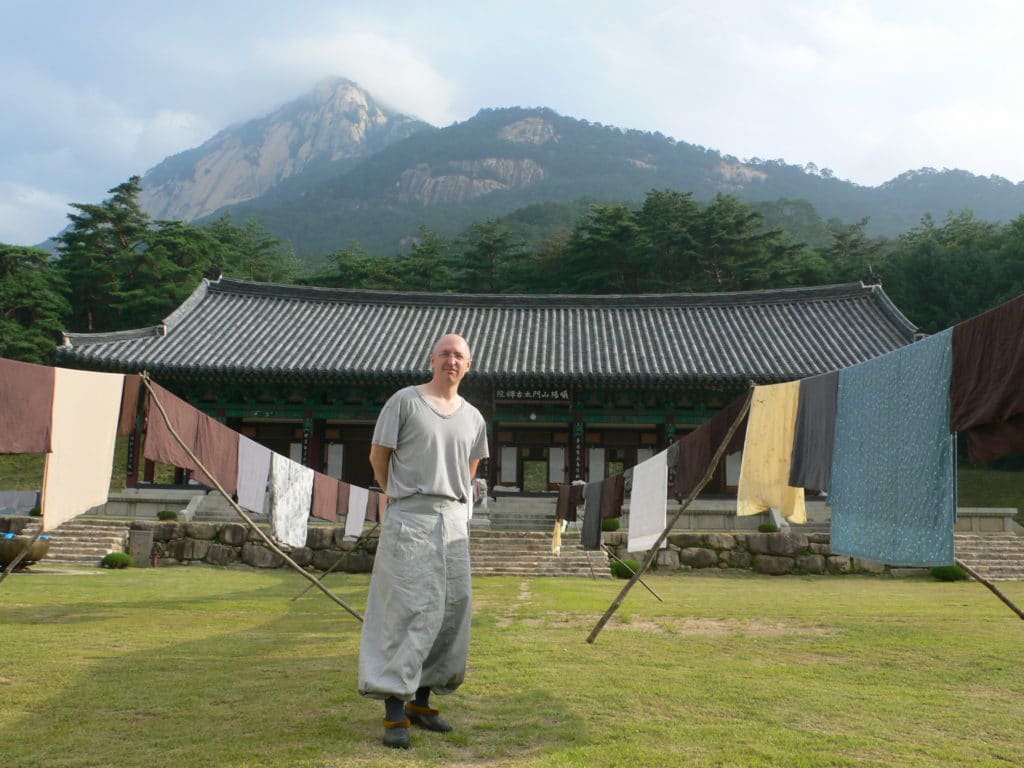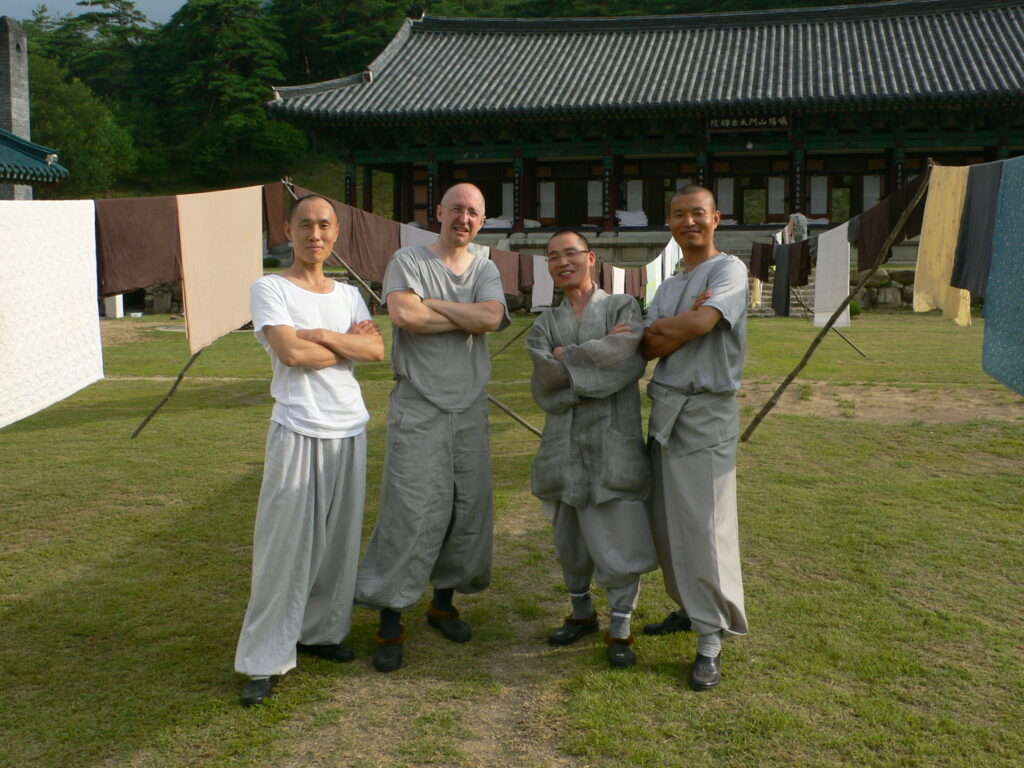 To my immediate left, above and below, the short monk is Boep Ung Sunim, the legendary "Head Monk of All Head Monks". Wherever he goes for retreat, there is universal pressure from the community and the Elders that Sunim manage the herd. Despite his diminutive stature, he is a fierce some leader, and few cross his leadership skills, which employed both force and irrepressible good humour. He has been an excellent Dharma-brother who opened many doors for me, believing in my drive and efforts. He was a self-styled "Zen gangster", but then again, I met a lot of monks in Korea who could wear that title!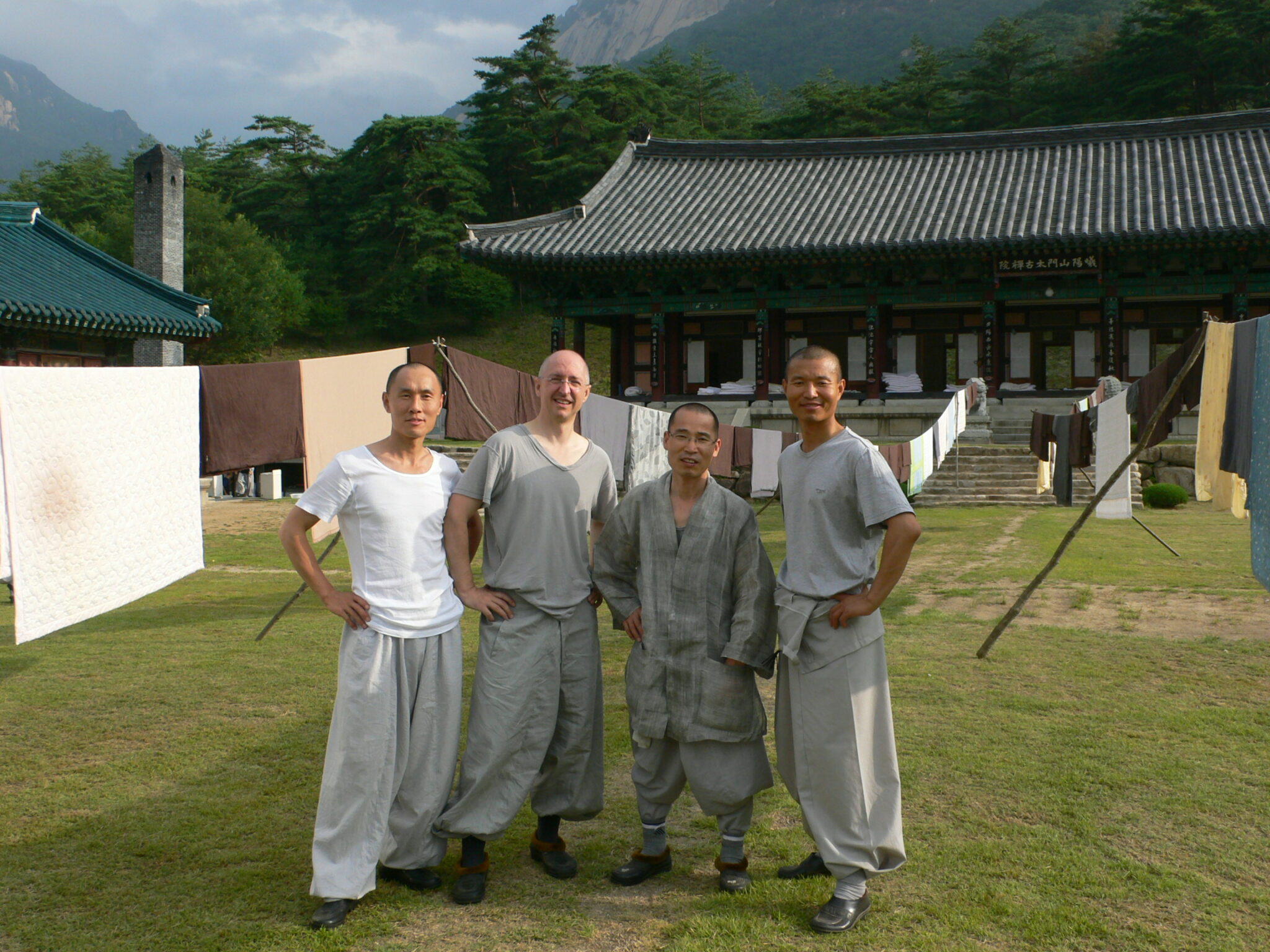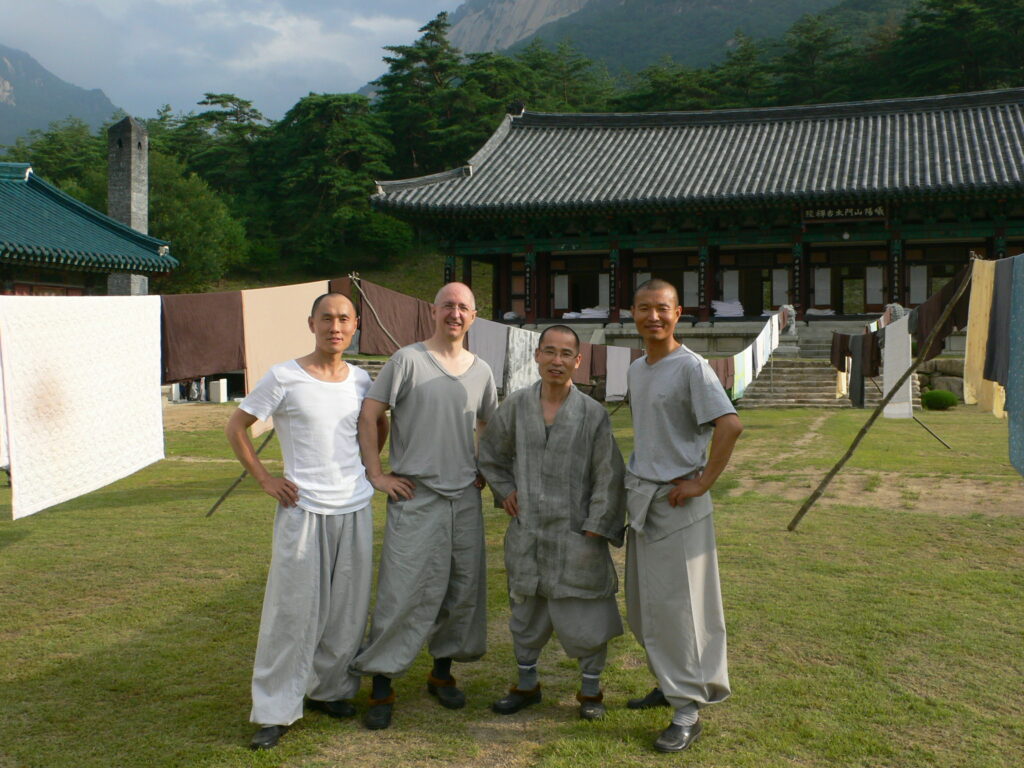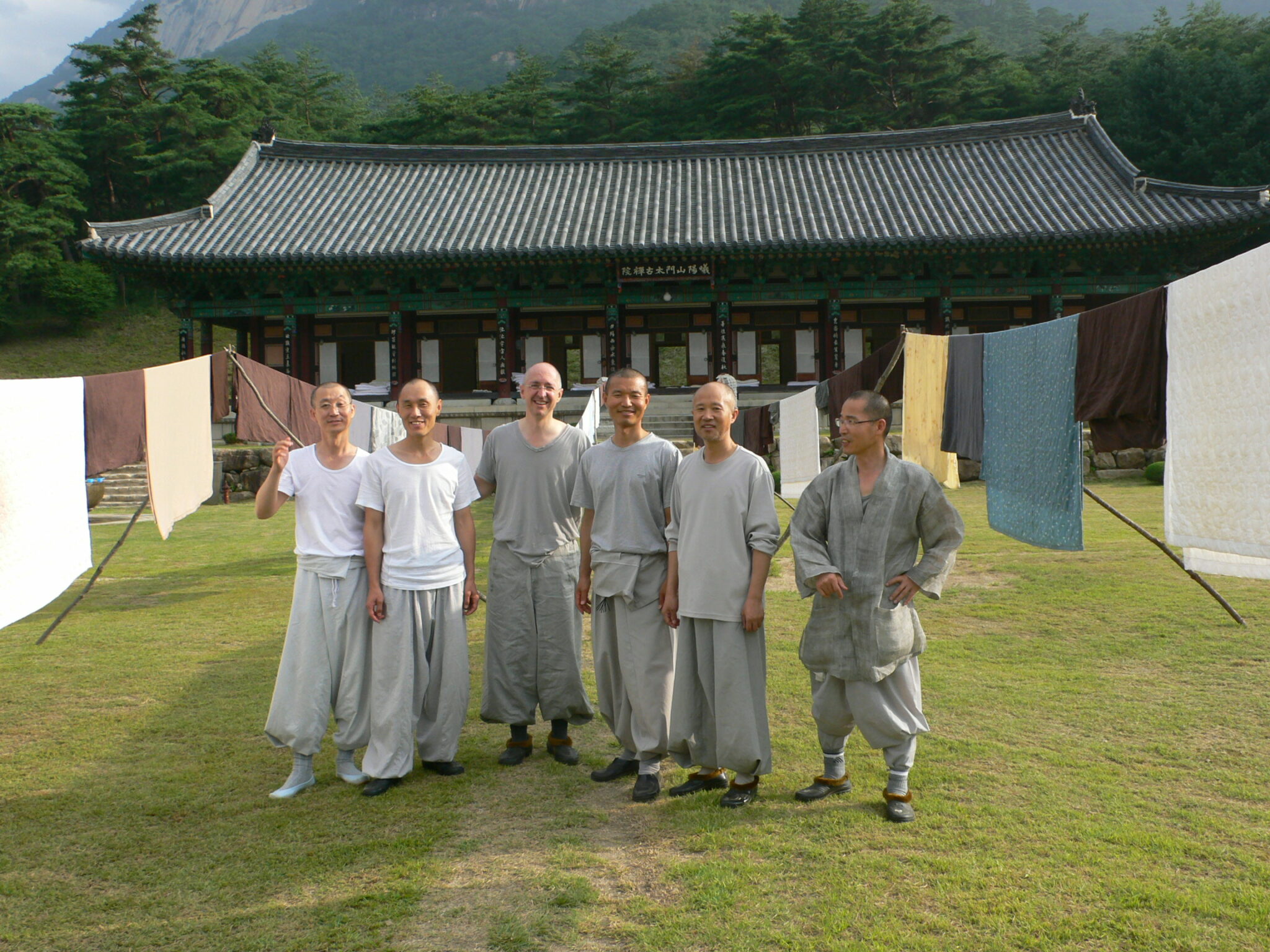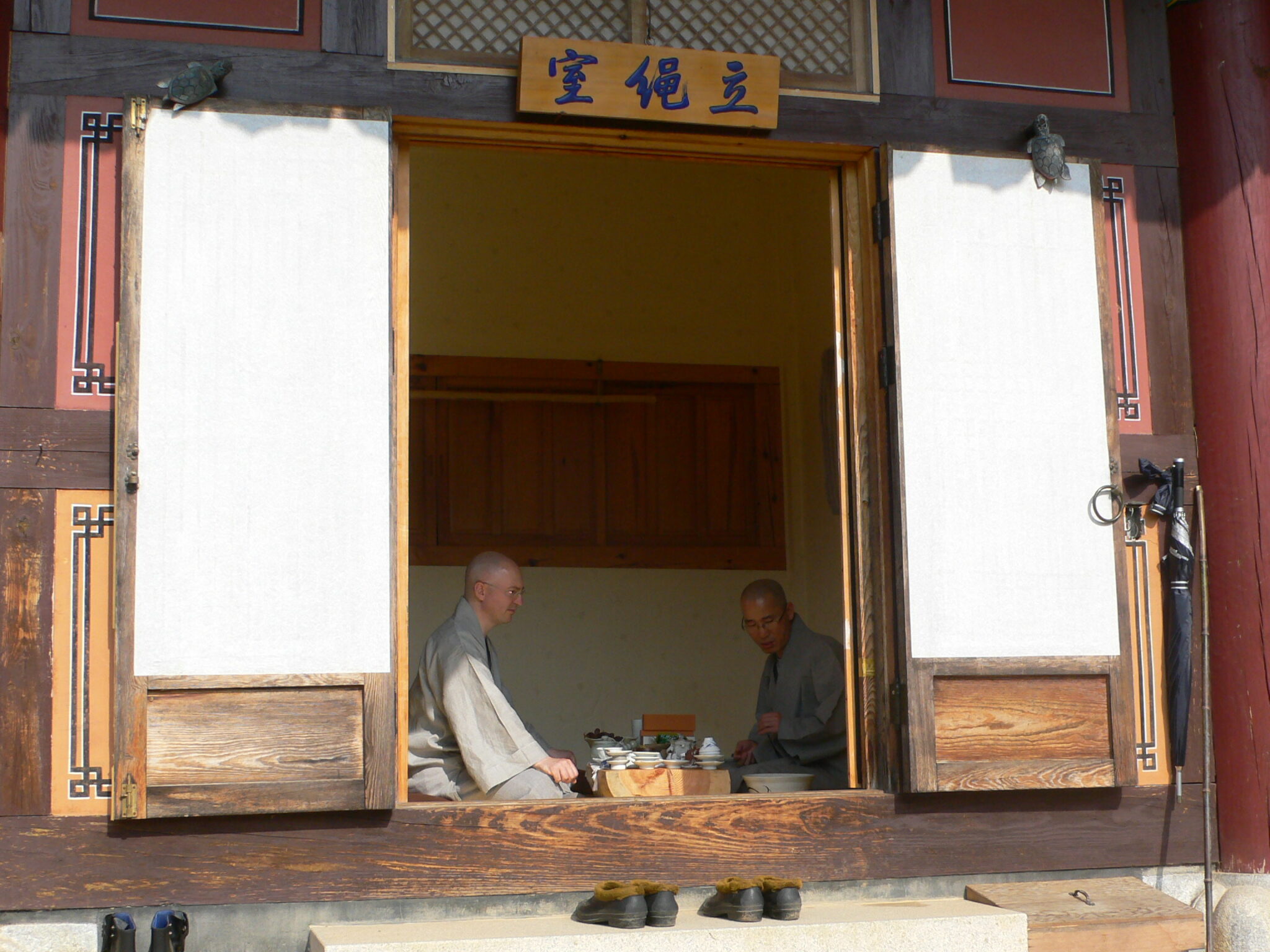 Tea in the Head Monk's room with Boep Ung Sunim. He always wished to have tea together, practically every single day, and though I was humbled by his attention and affection, these daily sessions made me wish even more strongly that I would be granted total-silence by the community the next time I sat there. And for the next Winter Kyol Che that year, permission was granted. What a relief! Inexplicably, many of the monks there consider absolute silence-practice as a burden: for me, it is a priceless gift from the gods.
But I had to pay my dues first, as a practitioner, to "pay it forward" with a retreat-period of non-silence practice so that I could respond to directions and corrections from the senior monks. This Summer Kyol Che was that "proving ground", and I did not miss a minute of the precious time spent there.