Today is the sixth anniversary of the death of one of my most immediate seniors in the monastic community practicing under Zen Master Seung Sahn at Hwa Gye Sah in Korea, the Philadelphia-born Dae Jin (Great Truth) Mu Shim ("No-mind") Sunim. He was already the longest-serving Western monk in Korea when I first arrived in 1990, and he was a constant presence in our daily lives. Sunim was the first foreigner in our family to fully master the Korean language, making his assistance invaluable for everything in our lives in the temple. I accompanied him a few times as he tirelessly served our Teacher on teaching-trips to Hong Kong, to China, to Indonesia, Malaysia, and different places in the US.
Dae Jin Sunim and I never sat the full 90-day retreats together: Dae Jin Sunim was more the classic profile of an "office monk", a job at which he truly excelled. Though Sunim did begin to run retreats at some point, his administrative responsibilities prevented him from really ever doing a full day of sitting together with everyone. He wasn't really oriented as much to sitting meditation and some of the "hard training" that some of the others were doing. And that's probably a good thing: devoted so singularly to providing the constant secretarial and administrative service required to support the global work of a very charismatic, very exacting and compassionately demanding Zen master, there really wouldn't be much time or energy left over for doing retreats. Living in the temple, of course he attended the daily morning practice and evening practice, every single day of the week, unless he was traveling somewhere or escorting the Zen master to some event. So, he definitely did much more meditation than the average "office monk" that one meets in Korea, most of whom never do much meditation at all, sad to say. He once told me, "You know, sometimes I'm a little jealous of you guys, doing extra bows or retreats in different temples. I guess that my work for Dae Soen Sa Nim is my meditation."
It is fashionable for people to claim that their work is their meditation. But having lived together with Dae Jin Sunim for over two decades, I can attest this last part of his statement to be completely true.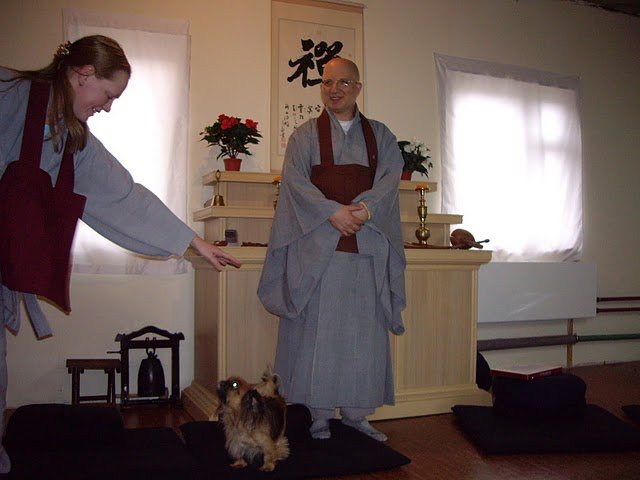 This next set of photos conveys the cosmic situation of his passing, which is also ours:

In this first photo, taken in November 2004, Dae Jin Sunim (center, wearing glasses) and other monk-brothers carry our Teacher's coffin out of the temple where he died, heading down to Su Dok Sah on December 1, 2004: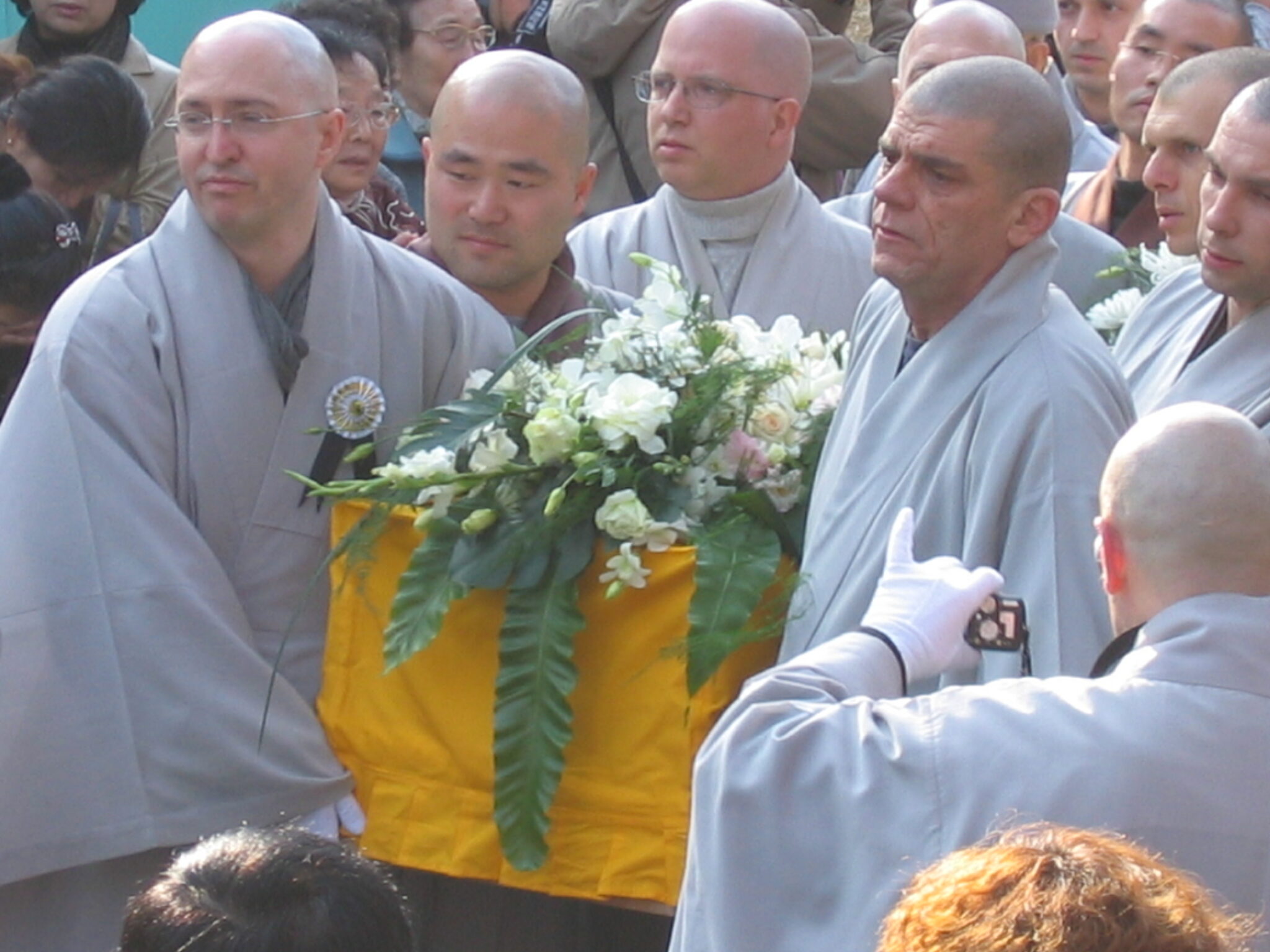 Just a few years later, a group of his monk-brothers escorts Dae Jin Sunim out of the temple one last time, as well: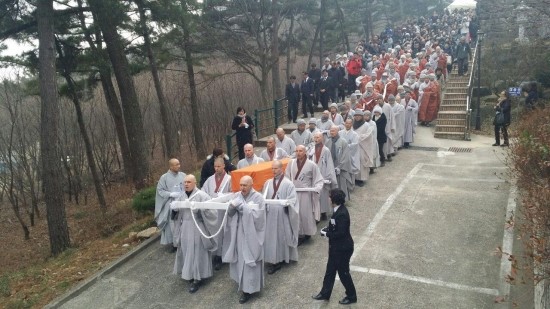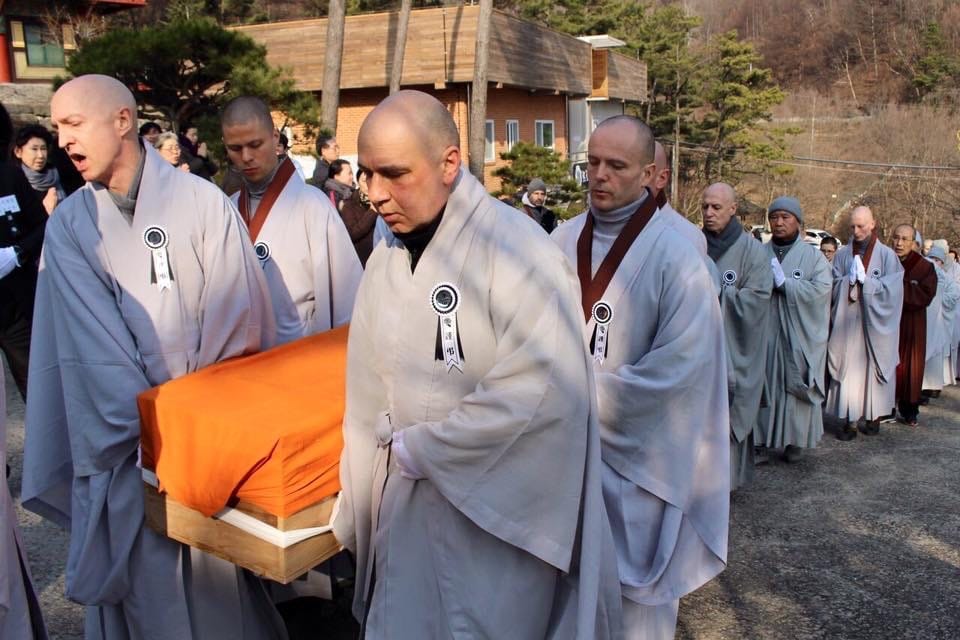 The next two photos bring a wistful feeling, more than any others of that somber day: Zen Master Dae Bong Sunim takes one look as the cremation flames engulf his brother's body. Dae Jin Sunim and Dae Bong Sunim — both Jewish-American monks, both born in Philadelphia, both children of schoolteachers, who served their Teacher unreservedly for over 40 years in his worldwide efforts — had a closer karmic bond than most in the community, on multiple levels. They are two who have striven among the most to make our Teacher's insights communicated to as many as possible, through talks and retreats and just giving their entire lives to Dharma.
In the first photo below, the imagination suggests the deep reflection that Dae Bong Sunim is having on this karmic bond, their hometown connection, the decades of life shared together serving this amazing work; in the second photo, taken seconds later, Sunim labors under the heaving effusion of smoke, the molecules of his brother entering his body. The slight lowering of his head as he brings his hands into prayer position in respect, a subtle wincing in the smoke, the bittersweet smile of the final letting go: Having lived together with these two great monks, and having seen the enormity of the work they helped us to do, the full pregnancy of this image brings tears to the eyes, even six years later.