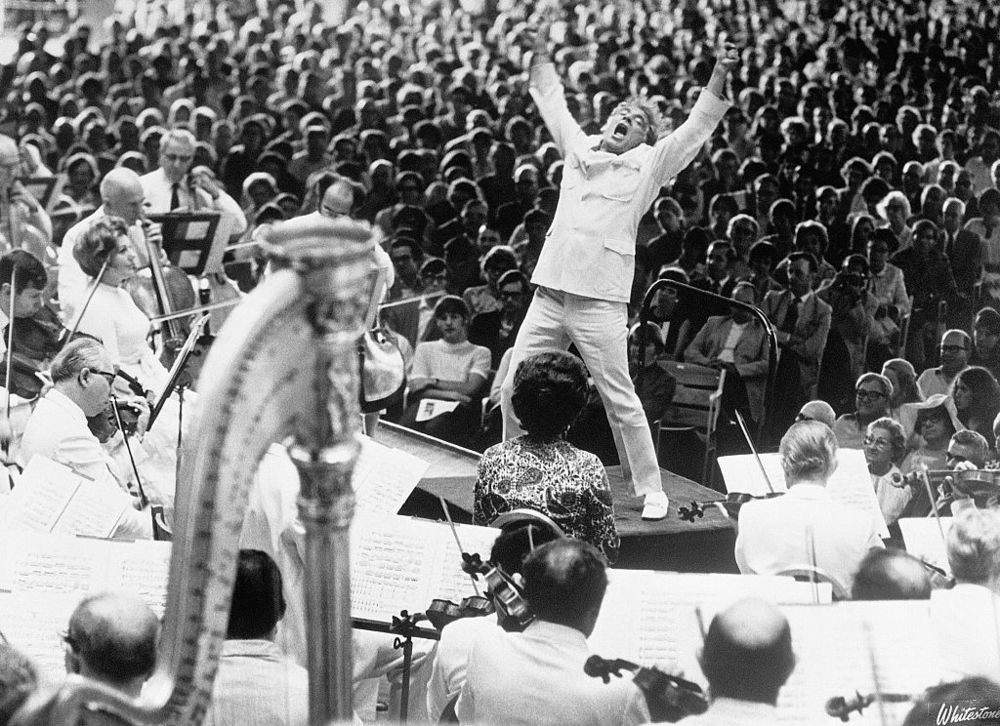 The finale of the Second Symphony, conducted by Leonard Bernstein at Tanglewood, July 5, 1970. I can basically match the moment of the picture to the note being played there — so much is this in the bones.
And yet this is the very reason why I dare not listen to him, except extremely rarely. It is total possession of the soul.
Yesterday, while pounding out some admin work and writing emails in a funky cafe in downtown Athens right by the Acropolis, in Koukaki, switching between phone calls with students on my headphones, for some reason iTunes suddenly came on and played straight through to my brain stem. The first notes of this Second Symphony filled my soul from behind 8 open tabs in the browser and three emails in various stages of completion. The first notes, and I was gripped in, a fish gaffed out of water. It wasn't the music as "music", as mere "sound" — it was the immediate penetration of a soul with a Soul, unawares and unexpected. The complete surprise of it made my heart leap, perceptibly, in the chest.
I let it play for 20 more seconds before cutting it off, breaking free again, leaping the edge of the boat back into the murky water of the noisy cafe and the comings-and-goings all around, because I knew that, if I would not listen to this straight through — through to the very moment that this photograph of Bernstein renders visually eternal — it would be better not to suffer miserably in a state of half-capture, the experience mediated by all sorts of visuals and movements all around the near-perimeter. The thought of emails needing to be done.
Better to be eaten whole, or else to flee desperately the scene of the attempted capture.
Just those opening notes!