It is impossible to describe the intense feelings of doom and dread – – yes, even guilt, because of my lifestyle's many, many contributions to it – – that I feel while taking this time for rest and reflection, in this seething summer of 2021, dodging fires and severe human tragedy in the countryside of Greece.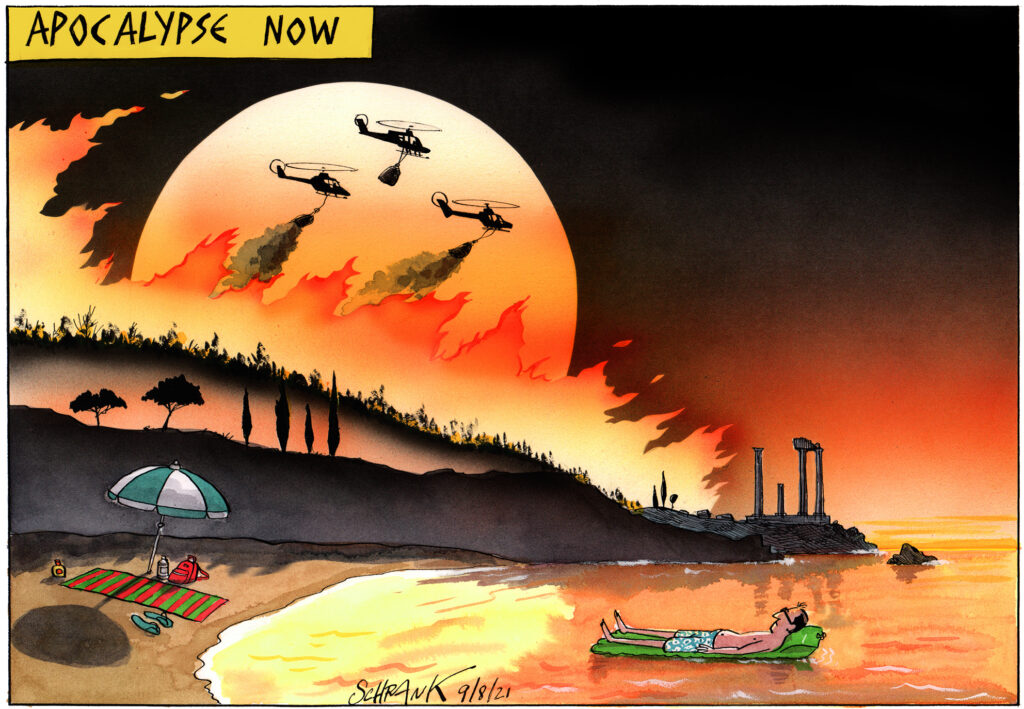 And as if this image were not fitting enough: Now we can witness, in real-time, the dark backdrop of the inexorable collapse of civil society in Afghanistan. The scene from Apocalypse Now, referenced in this cartoon, that great telling of the loss of the American soul in the defeat in Vietnam, and the pointless destruction chasing a neoliberal fever-dream's inevitable nihilism. This week reveals the bloody folly of twenty years of pumping unreliable gigatons of carbon into the atmosphere to create a Western-facing system of laws and norms which has now reverted to its previous eighth-century default setting. My heart goes out to the women, first, who must be clapped back into their predictable hell-states; to the children who will now grow up confined to a medieval penal system; to the many, many people of goodwill who took such killable risks to make a better life for themselves, now left to their own devices by an uncaring power itself too riven by self-contradiction to be of any help to them anymore.
The Afghanistan of their dreams is lost. Vast stretches of Greece (and Russia, and the Pacific Northwest, and Canada, and Siberia, etc.) are lost. And America – – that shining chance for humanity, despite its many faults – – has perched itself before the abyss of a national reckoning which will surely bring it finally to its knees.