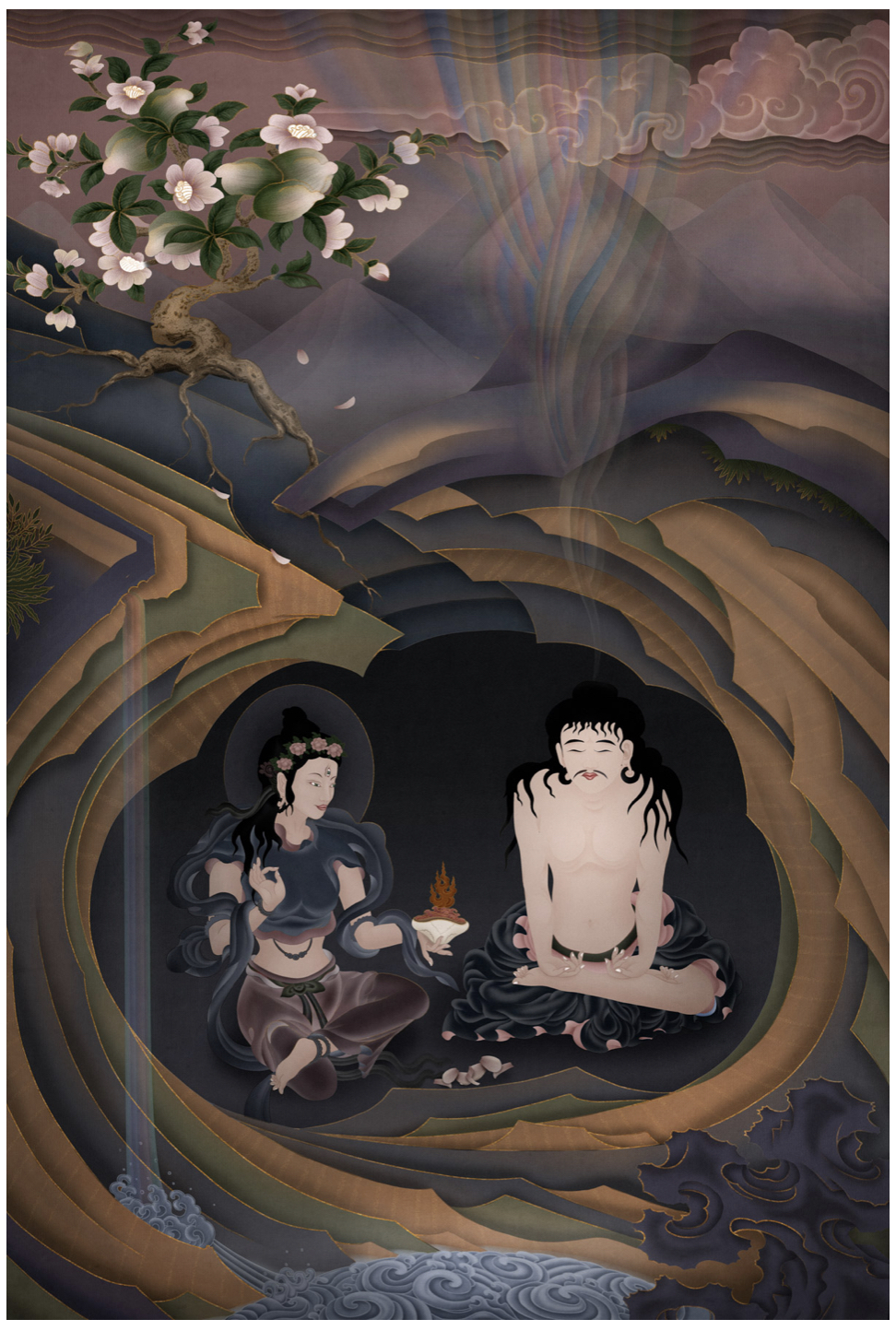 "Mahasiddah Luwapa" — "the black-blanket yogi" abides in deep meditation in a cave-like environment. He looks into the mirror of his mind, that "mysterious mirror of the Dakini", and there meets, and is blessed by, her increasingly subtle aspects.

Mahasiddha (Sanskrit: mahāsiddha "great adept; Tibetan: གྲུབ་ཐོབ་ཆེན་པོ, Wylie: grub thob chen po, THL: druptop chenpo ) is a term for someone who embodies and cultivates the "siddhi of perfection". A siddha is an individual who, through the practice of sādhanā, attains the realization of siddhis, psychic and spiritual abilities and powers.
Mahasiddhas were practitioners of yoga and tantra, or tantrikas. Their historical influence throughout the Indian subcontinent and the Himalayas was vast and they reached mythic proportions as codified in their songs of realization and hagiographies, or namtars, many of which have been preserved in the Tibetan Buddhist canon. The Mahasiddhas are the founders of Vajrayana traditions and lineages such as Dzogchen and Mahamudra.
Robert Thurman explains the symbiotic relationship between Tantric Buddhist communities and the Buddhist universities such as Nalanda which flourished at the same time:
The Tantric communities of India in the latter half of the first Common Era millennium (and perhaps even earlier) were something like "Institutes of Advanced Studies" in relation to the great Buddhist monastic "Universities". They were research centers for highly cultivated, successfully graduated experts in various branches of Inner Science (adhyatmavidya), some of whom were still monastics and could move back and forth from university (vidyalaya) to "site" (patha), and many of whom had resigned vows of poverty, celibacy, and so forth, and were living in the classical Indian sannyāsin or sādhu style. I call them the "psychonauts" of the tradition, in parallel with our "astronauts", the materialist scientist-adventurers whom we admire for their courageous explorations of the "outer space" which we consider the matrix of material reality. Inverse astronauts, the psychonauts voyaged deep into "inner space", encountering and conquering angels and demons in the depths of their subconscious minds.

Wikipedia