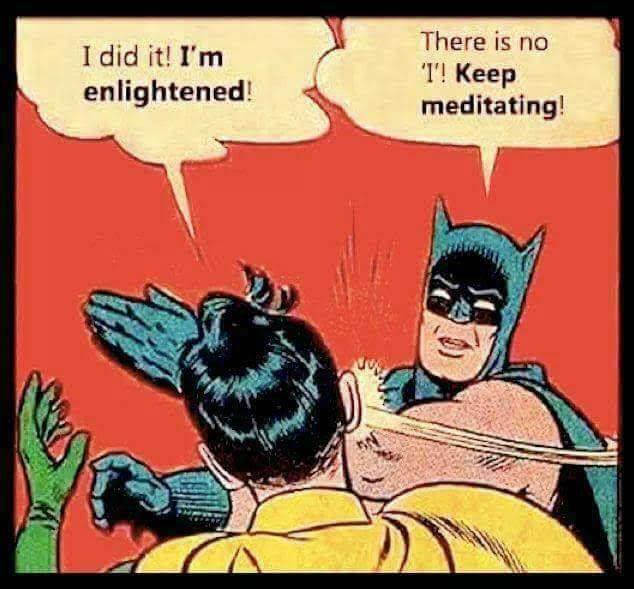 Ouch! Sudden enlightenment, gradual cultivation. Ouch! Ouch!!
From The Diamond Sutra:
SECTION III.
THE REAL TEACHING OF THE GREAT WAY
Buddha said: Subhuti, all the Bodhisattva-Heroes should discipline their thoughts as follows:
All living creatures of whatever class, born from eggs, from wombs, from moisture, or by transformation whether with form or without form, whether in a state of thinking or exempt from thought-necessity, or wholly beyond all thought realms all these are caused by Me to attain Unbounded Liberation Nirvana. Yet when vast, uncountable, immeasurable numbers of beings have thus been liberated, verily no being has been liberated. Why is this, Subhuti? It is because no Bodhisattva who is a real Bodhisattva cherishes the idea of an ego-entity, a personality, a being, or a separated individuality.
SECTION XVII.
NO ONE ATTAINS TRANSCENDENTAL WISDOM
Subhuti, it is the same concerning Bodhisattvas. If a Bodhisattva announces: I will liberate all living creatures, he is not rightly called a Bodhisattva. Wherefore? Because, Subhuti, there is really no such condition as that called Bodhisattvaship, because Buddha teaches that all things are devoid of selfhood, devoid of separate individuality. Subhuti, if a Bodhisattva announces: I will set forth majestic Buddha-lands, one does not call him a Bodhisattva, because the Tathagata has declared that the setting forth of majestic Buddha-lands is not really such: "a majestic setting forth" is just the name given to it.
Subhuti, Bodhisattvas who are wholly devoid of any conception of separate selfhood are truthfully called Bodhisattvas.
SECTION XXII.
IT CANNOT BE SAID
THAT ANYTHING IS ATTAINABLE
Then Subhuti asked Buddha: World-honored One, in the attainment of the Consummation of Incomparable Enlightenment did Buddha make no acquisition whatsoever? Buddha replied: Just so, Subhuti. Through the Consummation of Incomparable Enlightenment I acquired not even the least thing; therefore it is called "Consummation of Incomparable Enlightenment."
The Diamond Sutra and the Sutra of Hui-Neng
(Shambhala Publications, Boston)
Translated by A. F. Price and Wong Mou-Lam)