Was just arriving here in Athens to lead a booked-out three-day silent retreat when I received news of the passing of a friend and kind of brother-in-law, Jaewoong Chung, a man gone way before his time. Really preternaturally relaxed and smooth but sharp and clear, his quick wit and always-gentlemanly jocularity will be missed. He was proudest to be a doting Dad who encouraged his children's intellectual development and freedom. His daughter was a trained competitor in equestrian sports! I would have seen spinal-injury all over it, and begged her off of a life in a self-imposed wheelchair for some jumps. Jae celebrated it, and in that, he celebrated her deepest self, a wellspring of self-confidence and guts.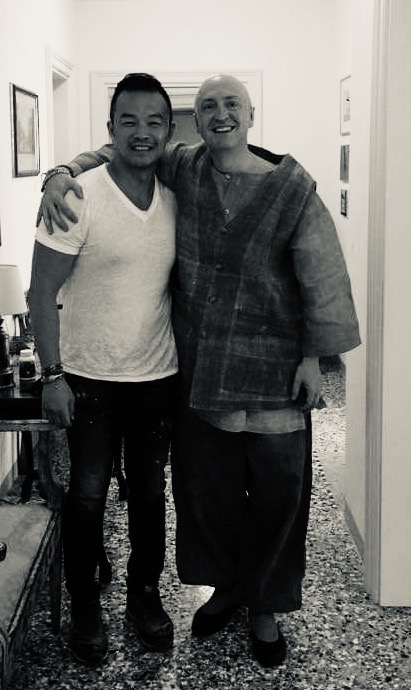 Our last talks together, last year, at his home during my visit the States to give the Dharma talk at the Buddha's Birthday events at Bul Kwang Sah, were about Buddhism. We spoke about some of the aspects of Buddhism he felt he'd been misunderstanding, until now. It was about the point of Buddhism. The thing about maybe "cutting off" family seemed a little harsh, to him, "…unless maybe there's something I'm not getting straight in my head about it." He was open to learning.
We were getting cut off quite often by comings-and-goings and a dog, natural stuff. But we talked at least a little about dharma. In our last talk in this world, face-to-face, the topic was several times dharma. I hope something rubbed off on him, for rebirth after rebirth, as I wish for everyone, and for myself. Hopefully we don't block out this subtle energy of auspicious return by clinging to heavily accumulated habits, tastes and experiences that can also be let go of. As we let go of this body. As he has now done, and is relieved of its pain.
The body of Jae which I hold in this picture no longer exists anywhere in the universe, and it never will again: such is its uniqueness, its lying appearance, the great fake of Being. "My body, too, then, is just like this – – already non-existing, a temporary illusion of name and form." As Dae Soen Sa Nim put it so clearly in that letter in Only Don't Know, "Before you were born, you were zero; now, you are one; after you die, again becomes zero — so, zero equals 1, and 1 equals zero."
How mysterious our existence! Thank you for your teaching, Jaewoong Chung! What's important to take from this early passing, what we've got to remember, is that we've got to have Dharma around when we go, either chanting or being chanting "to", whatever: We are of the best merit when we engage this transition with Dharma as an aid, to help this "auspicious return," encountering conditions that support meeting the Dharma again and waking up again, and again and again and again. Or even once — it's enough.

(I'm so gratified to know that the funeral rites were led by the great Hwi Kwang Sunim and the Sangha at NY Bulkwang Zen Temple. Mun Jung Sunim and Dae Soeng Sunim. And it's such an honor that the cremation-transition was escorted by the old school traditional style of the semi-legendary Sung Hyang Sunim, from Won Jeok Sah Temple. He escorted Jae's body from funeral home to cremation site, and through the whole process of returning his body to the elements. That's all a really really classy way to go. Which is what fits Jae, for sure.)