The funeral ceremony and cremation of Venerable Mu In Sunim, a Dharma brother gone too soon. The coffin is carried up a mountain path that Mu In Sunim and I walked together just back in November — then it was brown mountain dirt and autumnal leaves; now, it is wet green grasses juiced up on rain, and mud. His box is carried the same path we walked together, talking together and mostly not talking together.
The "memorial prayer" is chanted by Hyon Muk Sunim, who was the longtime Chief Monk of the Soen Won (the Zen Hall, Jap.: Zendō) during all of the years I trained there — back and forth for Kyol Ches from 2002 to 2016. A great monk.
His chanting is especially sincere and soulful — it sometimes brought tears to my eyes during our daily "sashi majji" (사시 마지) chanting. Even if you don't understand Korean, it's worth a listen to this precious bodhisattva-emotion rolling through (16:45 – 24:15).

I was experiencing this funeral ceremony through a YouTube video which Songgwang Sah TV uploaded just today. I was watching the video while traveling on the train between two cities when, all of a sudden, my phone registered an incoming KakaoTalk message from my old friend Boep Ung Sunim, who lives on that mountain and was present in the funeral ceremony video. He and I exchange messages maybe twice or three times per year, maximum. Yet today, how it that he messages me in the very same moment when I am watching a pre-recorded video of him and all of the monks honoring Mu In Sunim at an outdoor funeral ceremony and cremation in the hills above Songgwang Sah several days ago?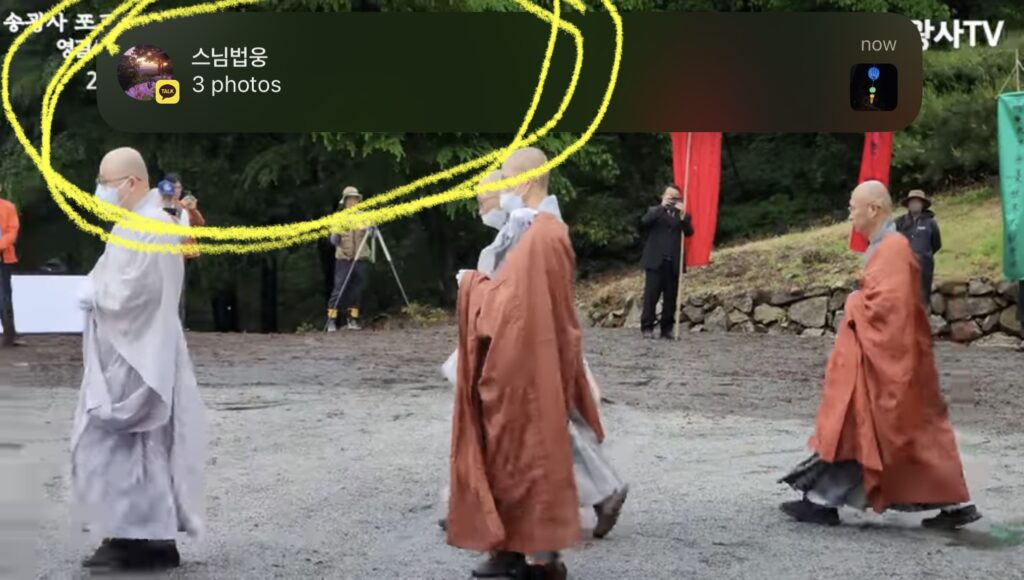 We exchanged a few messages, as Sunim seemed to be in a pensive state of mind. Nothing heavy, but also had great affection for Mu In Sunim. Sunim reminded me that during several of the retreat seasons together at legendary Bong Am Sah Temple around 2008-2011, we spent several seasons with Mu In Sunim. Sunim reminded me that he had nicknamed us "the three musketeers" because we three had a very similar maverick character or sense of humor, and were known for that in the retreat. (I forget all these things over the years, or was unaware.) Boep Ung Sunim said that during the funeral ceremony, when he looked at the memorial portrait of Mu In Sunim on the altar, these memories of "the three musketeers" came to mind, and he thought about me, so then he thought to message.
So endlessly fascinating how these wisps and tendrils of memory and action, of coming and going, of a filmed image being viewed of a person at that time, having a memory of you and the person whose ephemeral life they are memorializing, at the same time, while you are watching it… It boggles the mind.
Here is one of the saddest possible photos in monastic culture: a saddened Teacher sending off his student early with a bow. The Songgwang Sah Patriarch Hyon Bong Sunim offering incense at the memorial altar for Mu In Sunim, someone who he raised in the monastic life for 25 years — the lifetime of a real son: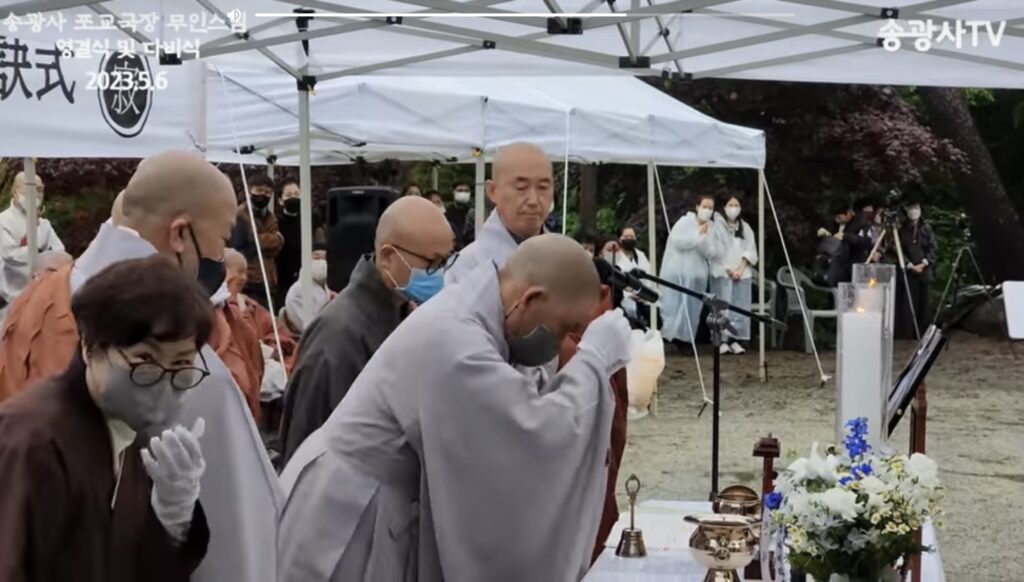 The senior-most monks offer incense:

The lecturer and precepts teacher (with Boep Ung Sunim) offer flowers to the funeral pyre, and bow: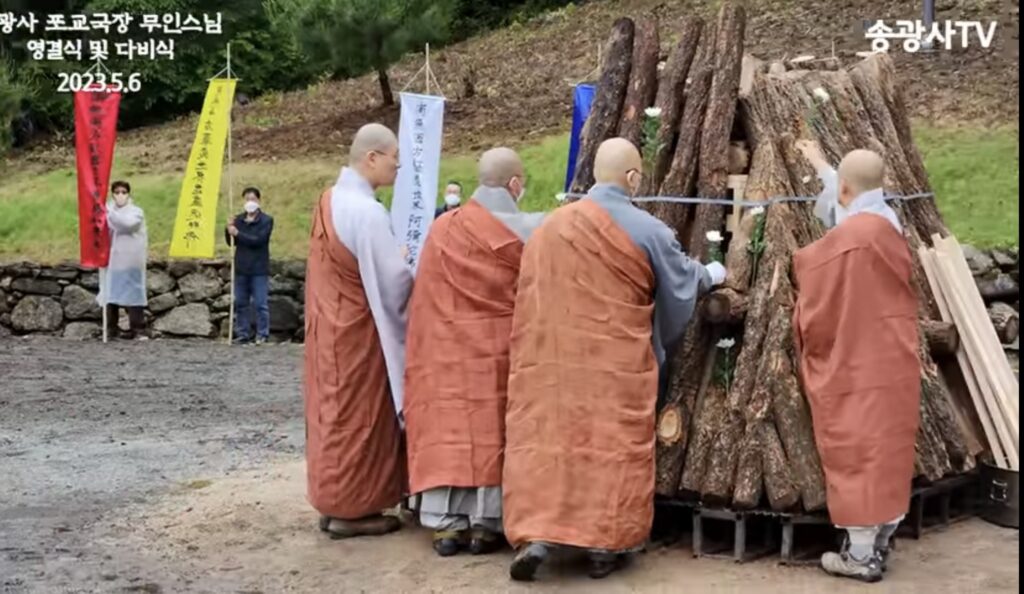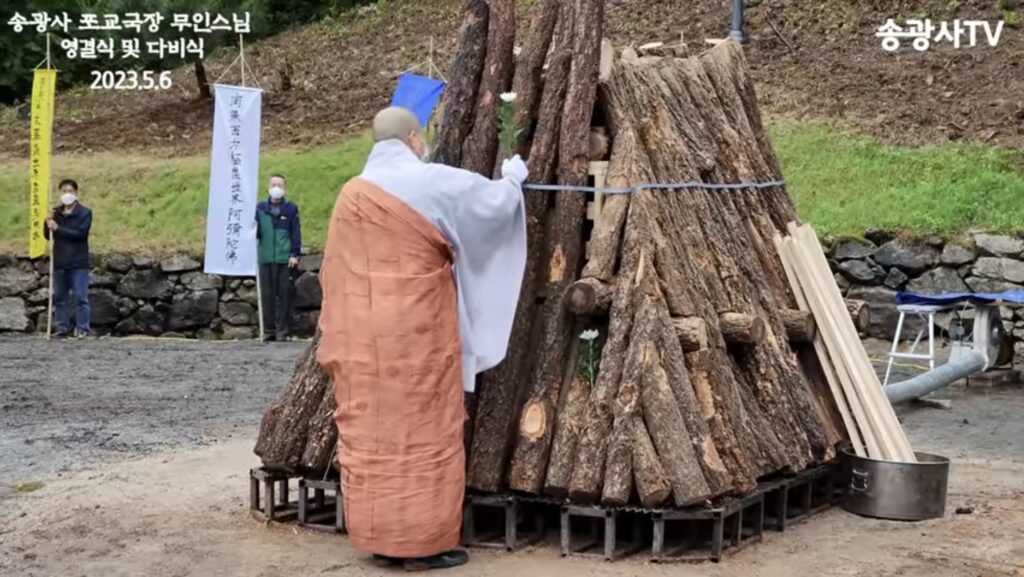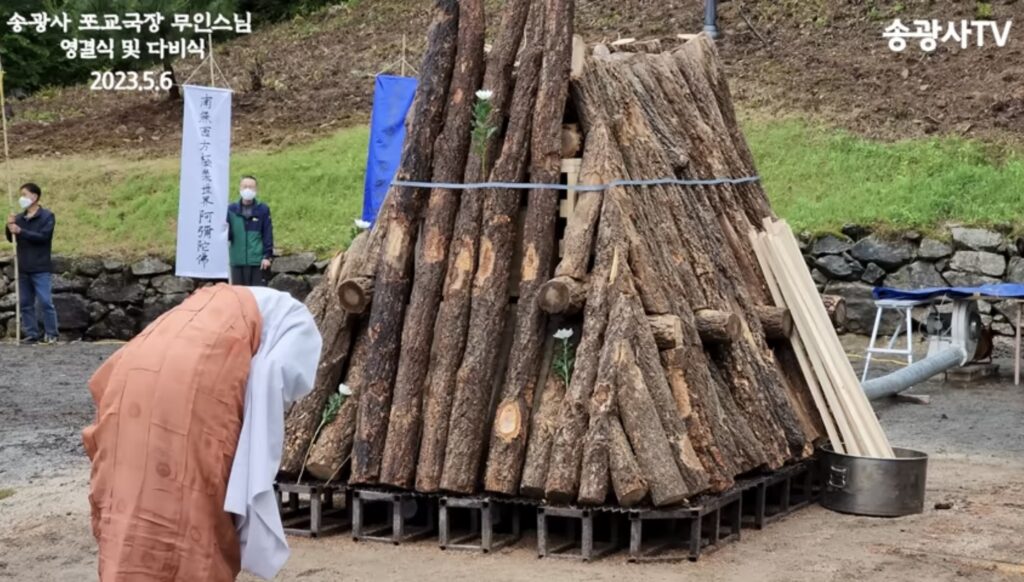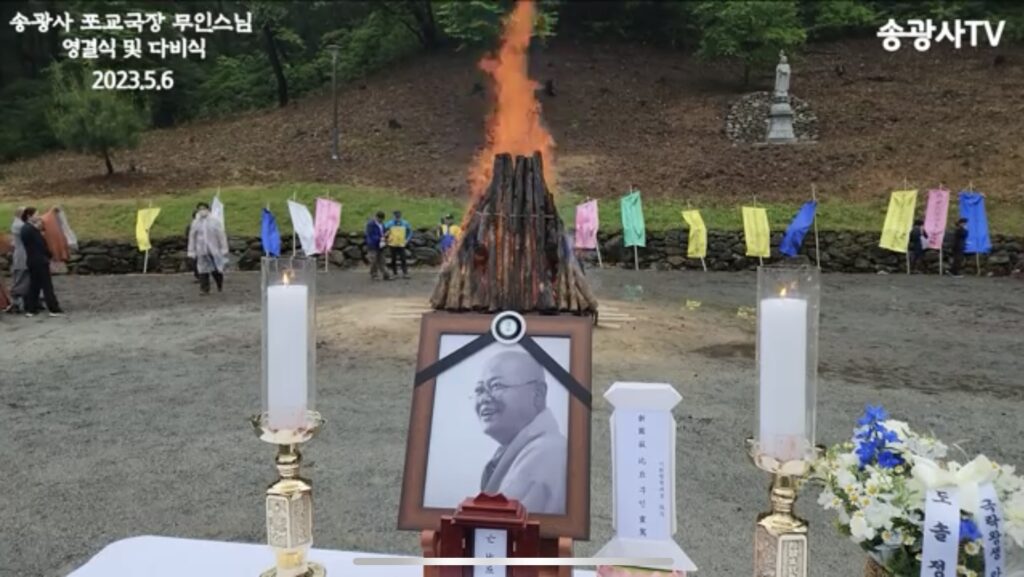 Less than one week ago, these people – – Mu In Sunim's friends and Dharma-family – – were having lunch with him. Bright-eyed, always jovial, humorous, attentive, and committed passionately to the Dharma (and to Songgwang Sah), in a large fleshly package of mirth and generosity. Now he exists only as a hot, crispy amber cooling in the late spring drizzle. And so it goes with us all. As Zen Master Seung Sahn said, "Before you were born, you were zero; now, you are 1; after you die, again becomes zero. So, 0 = 1, 1 = 0."
A je! A je! Bara aje! Barasam gaté! Bodhi svahā!