Sitting serene silent summer Sunday mornings in the Altstadt never grows old, yet is always completely eternal.
After coffee, croissants, and Dharma dialogue with the community at a coffee shop downstairs immediately following predawn practice,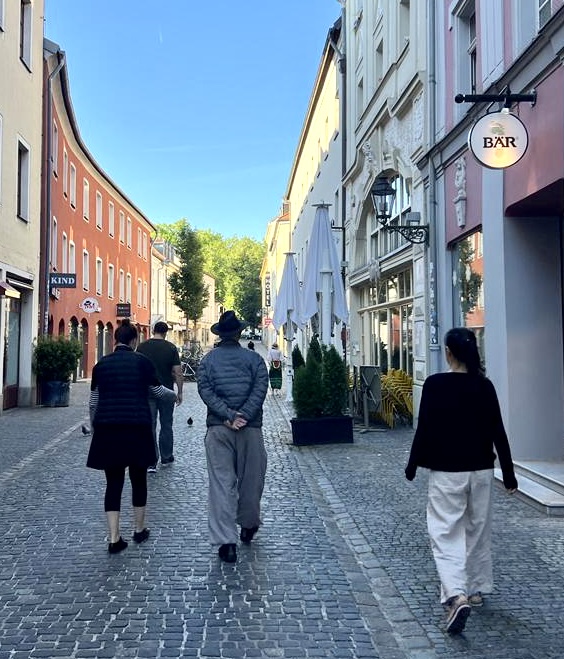 there is a short break and a return to Meditation.
Then several overnight visitors from Paris (via Korea) head out on the road back to Munich and Vienna and beyond. Sooyeon studies political philosophy in Paris, of all fucking places to study THAT subject with THOSE (hyper argumentative) animals is way, way beyond me. Thankfully for her soul, she has been a Patreon supporter of mine for a long time, and practices with us on the livestream on YouTube. Lindy (Leonard) is her very nice, patient traveling companion. He is based in Korea, actually.
One more step in a practicing day which starts for her at 3:30 AM, waking up alone in the Dharma room, she is scheduled to return to Munich for two nights of in-office attendance. But Do Tzong never leaves retreat-mode, her business cycle adapting to her practicing rigor, and one of her optimizing hacks is that she chooses to flow with less viscosity in the space between temple and business by adopting, for the full 90 days, the simple throwaway clothing of a Zen nun, the gray-form sackcloth of the meditative East when she travels, even when she goes to the office. The same drab baggy meditation clothing as in a temple, adapted for life today. She prepares for herself a simple thermos of her own handmade almond/walnut milk, for a pure yet strong nutritional maintenance during her flow. She practices mantra while walking, and catches up with work when she is able to get a seat on the chaotic German rail network of the summer 2022 discount-ticket passenger-packing madness. She keeps the retreat schedule of the Zen Center in her own home when she is required to sleep there by work or needs to make a multi-night visit outside the Dharma cocoon here. This nun's clothing is not a show or a statement: she is utterly incapable of both things, entirely. It is only the inner manifestation of her own "poverty", seeking the innate, meditation-manifestex blessedness of the "poor in spirit" that Jesus speaks of, in her quiet, silent, non-interfering meditative schedule in Sangha.