During the days of our retreat this past weekend, we came to learn of the passing from his body of a great figure in the transmission of the Dharma to these northern lands: Koun Gordon Geist.
Though he was born and raised in America, Gordon produced the first translation of Shunryu Suzuki Roshi's seminal book, Zen Mind, Beginner's Mind, into Norwegian. (They say his Norwegian is excellent.) He led the main Rinzai Zen sangha in Oslo for many years. He organized countless retreats, and invited many teachers to Norway to spread the dharma. In every cell and fiber of his being, he manifested Dharma.
Gordon was always characteristically kind and courteous to me during these years of visits to teach in Norway. He attended several of my public talks, and he always stayed to share some words together at the end. He even "lent" his beautiful Zendo for a retreat we had eight years ago. He is a great marker on the Way.
In Asian temple tradition, it is customary to honor the passing of a great nun, monk, or teacher with a visit to her or his temple. As soon as we finished the retreat, and the guests had left, I organized a small group to visit the temple where Gordon practiced, to offer a stick of incense at the altar and bow three times in recognition of gratitude for his lifetime of practice. At the end of our bows, I shouted "Tausen Tag!" ("a thousand thanks") at his death portrait (below).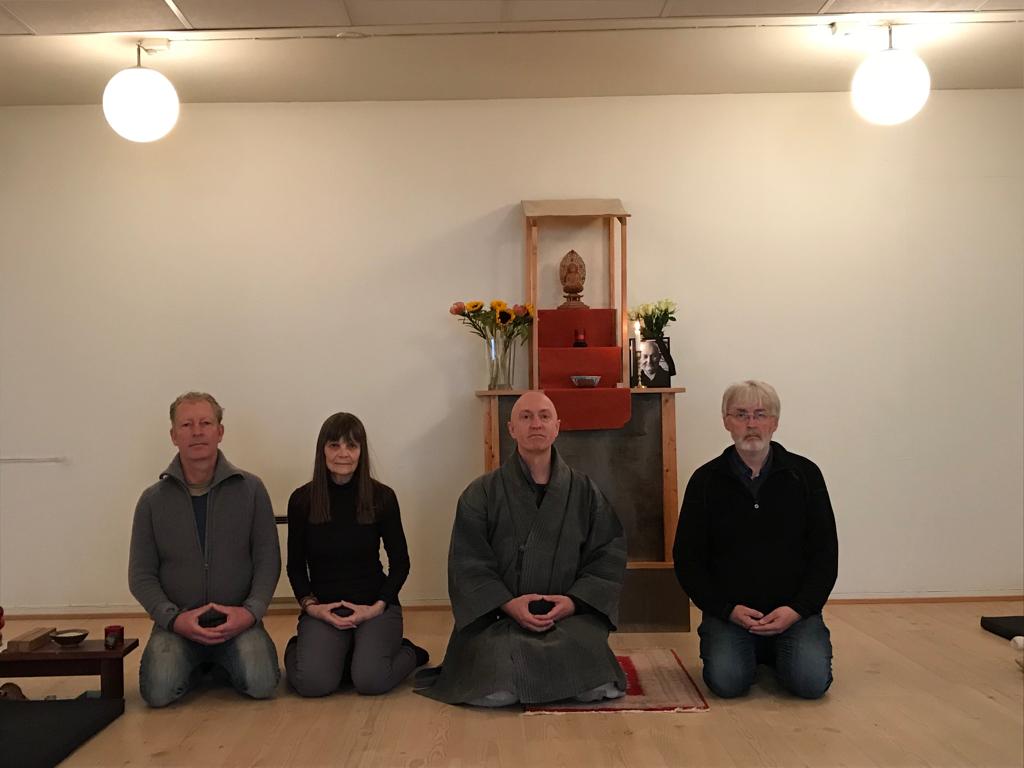 Here is an English translation of the words posted by his Sangha on social media:
Dear Zen friends and Sangha members:
Sunday, October 10., our dear elder, Koun Gordon Geist, died. He had been having health issues for a while, but it still happened unexpectedly and quickly.
Many of us got our first encounter with Zen through Koun and what he taught us has left lasting traces. His long-standing and tireless efforts for the center, both spiritually and practically, are one of the main reasons why there is a place we can practice together today. So even though he is now gone he will forever live on at Rinzai zen center, both when we chant, perform our prostrations, or sit together.
Thursday, October 21. th at noon. 18.30 the usual sitting will be replaced with a memorial in zendo. Here, there will be both a formal marking and the opportunity to commemorate Koun jointly.
He will be buried on Friday, October 22. at 14.30 in Vestre Gravlund by Borgen.
In deep gasshō, and with love.