It has long been a fervent wish to attend Easter services in Greece. During the first lockdown, everything was completely shut down, and it was not possible. This year was a severely limited and circumscribed public expression of the ancient rites, but I got a little taste. I will be back again and again and again.
This is the haunting hymn of lamentation that is sung, over and over again, over the Epitaph on Good Friday. From the first time Ioannis played this video of it, my soul felt pierced deeply by something very haunting and very, very deep and familiar. I believe I have chanted this somewhere before, sometime. It is the "My sweet Srping", which is a depiction of something sung by the Virgin Mary over her son's dead body.
These are some of the lyrics with translation:
Αι γενεαί πάσαι, ύμνον τη Ταφή Σου, προσφέρουσι Χριστέ μου.
Καθελών του ξύλου, ο Αριμαθείας, εν τάφω Σε κηδεύει.
Μυροφόροι ήλθον, μύρα σοι, Χριστέ μου, κομίζουσαι προφρόνως.
Δεύρο πάσα κτίσις, ύμνους εξοδίους, προσοίωμεν τω Κτίστη.
Ούς έθρεψε το μάννα, εκίνησαν την πτέρναν, κατά του ευεργέτου.
Ιωσήφ κηδεύει, συν τω Νικοδήμω, νεκροπρεπώς τον Κτίστην.
Ω γλυκύ μου έαρ, γλυκύτατόν μου Τέκνον, πού έδυ σου το κάλλος;
Υιέ Θεού παντάναξ, Θεέ μου πλαστουργέ μου, πώς πάθος κατεδέξω;
Έρραναν τον τάφον αι Μυροφόροι μύρα, λίαν πρωί ελθούσαι.
Ω Τριάς Θεέ μου, Πατήρ Υιός και Πνεύμα, ελέησον τον κόσμον.
Ιδείν την του Υιού σου, Ανάστασιν, Παρθένε, αξίωσον σους δούλους.
All Generations offer a hymn to your burial my Christ.
The Arimathean took you down from the cross and buried you in a tomb.
Women came with spices to give thee perfume and prepare your burial.
Hither creation was made, let us sing hymns to praise our Creator.
Nourished from above with manna, lifted heels of contempt against their benefactor.
Joseph is buried by Nikodemos, body of the Creator.

Oh my sweet spring, my sweetest child, where does your beauty fade?
Son of God, Almighty, my God and Creator,
How can I receive your passion?
Women with spices, came very early in the morning to sprinkle the grave with perfume.
O my Holy Trinity, Father, Son and Spirit, have mercy on the world.
Allow us to serve you Virgin, to see your son's resurrection.
[text: Your Guide in Greece]
And here is the Patriarch of the Greek Orthodox Church, the Archbishop of Athens and All Greece, Ieronymous II, wacking that power-incense:
So interesting to note that he did theology study at the University of Regensburg: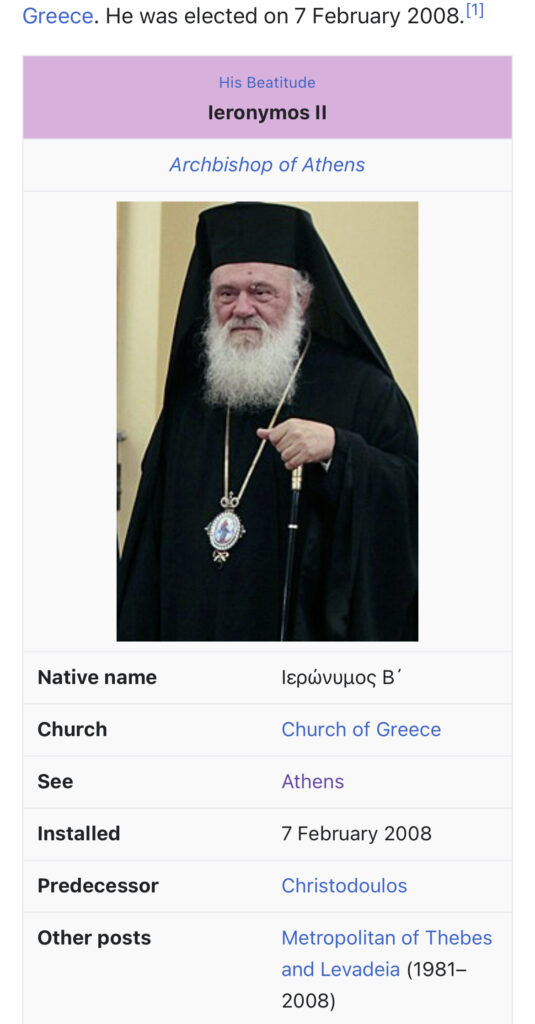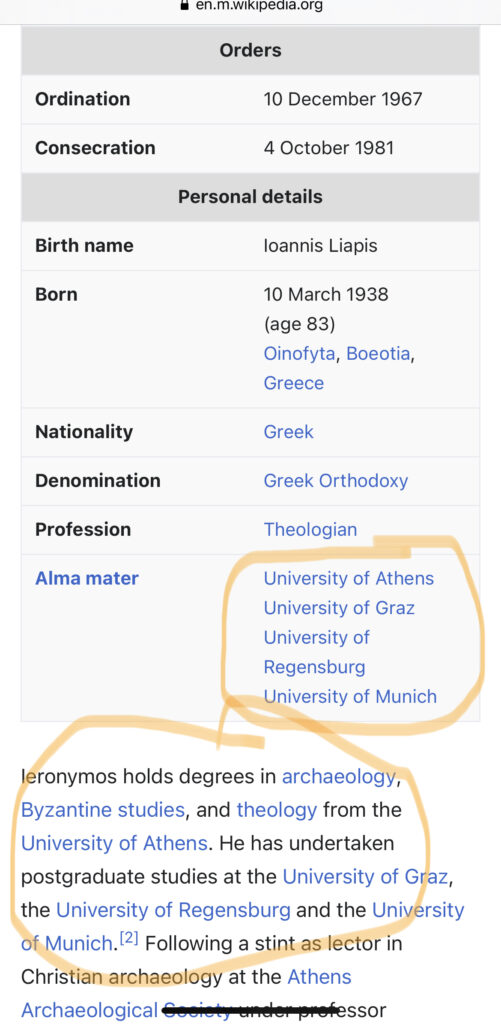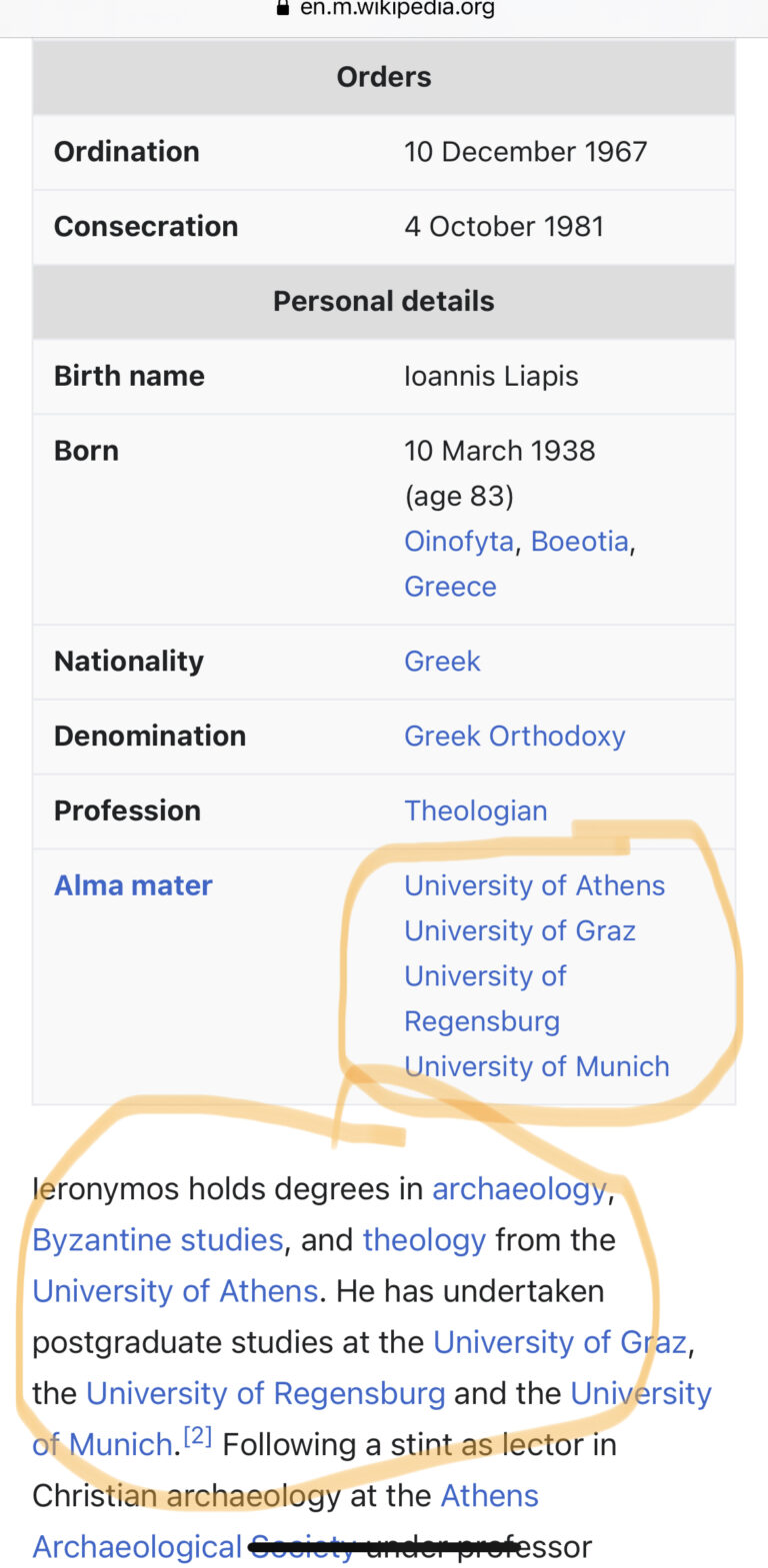 The connection to Regensburg was fascinating to realise: the retired (still-living) former head of world Catholicism, Josef Ratzinger (Pope Benedict XVI), was a professor there from 1969-1977. This Greek all-patriarch also studied there — the head of the Greek Church. Two "popes" of two of the major living monotheistic faiths.
And of all the cities in Europe, the Zen Center Regensburg seemed magnetically pulled to be located there. To a spot on top of the ruins of the headquarters of Emperor Marcus Aurelius's base, "Caster Regina," in the years that he was writing "The Meditations" during his campaigns to subdue the feckless Germanic hordes.
Full circle.
Chills. Goosebumps.